Assistive Product

DIP / SHRUG – EASY ACCESS
Product Type:
Trunk Training Device for People in Wheelchairs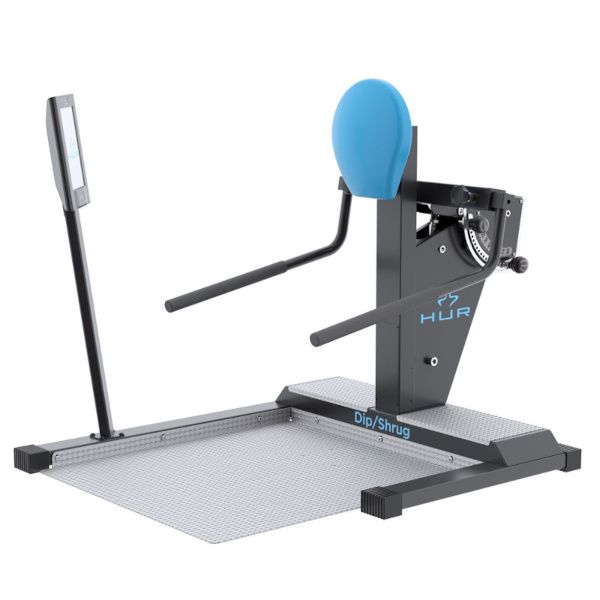 Areas of Application:
-People in Wheelchairs
- Strength Training
- Upper Body Muscles
- Chest
Description:
With this dual function device, you can specifically train the biceps and triceps muscle groups.
The device is equipped with movement limiters, which allows limiting the range of motion.
The support belt helps especially when training with heavy resistance. The belt is part of the basic equipment of many HUR devices.
The dual-functional device can be used to train muscle groups acting as opponents. The direction of movement can be selected using the joystick.
A locking mechanism allows the desired start and end position of the movement to be set. This function is recommended for people with limited mobility or for rehabilitation training after surgery.
With the help of the optional smart card, the system guides the user through the entire training session and automatically regulates the strength resistance according to the training program.
Features / Components:
- dual function - joystick
- large push buttons
- belt
- movement limiter
- digital display
- displays resistance and pulse
- counts repetiti
Price (without guarantee):
The price is available on request from the manufacturer / distributor.
Product Information from the Manufacturer / Distributor:
Further Product Details
Further Information
REHADAT does not sell any products
Please contact the manufacturer or distributor.
Manufacturer:
no data available

Distributor:
HUR Deutschland GmbH
Carl-Benz-Str. 5
72250 Freudenstadt
Germany Telephone: 07441 8601790 Email: info@hur-deutschland.de Homepage: https://hur-deutschland.de/
Technical Data:

Width: 110 cm
Length: 100 cm
Height: 108 cm
Weight: 71 kg
Reference Number:
M/26974
Source :
IDTS
Last Update: 3 May 2023