Assistive Product

Arm- + Beintrainer verchromt
Product Type:
Arm and Leg Training Machine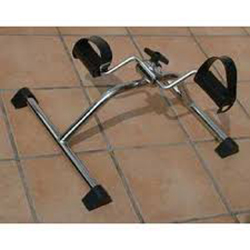 Areas of Application:
- Arm Training Machine
- Leg Training Machine
- Circuit Training
- Muscle Training
Description:
A simple pedal crank with two pedals is mounted on a tubular steel frame with non-slip rubber stoppers. A clamping screw can be used to adjust the grinding resistance and thus the amount of force required. The device can be actively driven with the arms and with the legs.
Price (without guarantee):
76,40 EUR including VAT (distribution)
End user price
Product Information from the Manufacturer / Distributor:
Further Product Details
Further Information
REHADAT does not sell any products
Please contact the manufacturer or distributor.
Manufacturer:
no data available

Distributor:
Groß GmbH
im- + Export med. techn. Handelsvertretung
Talstr. 35
72658 Bempflingen
Germany Telephone: 07127 35425 Email: grossgmbh@mthmed.de Homepage: https://www.mthmed.de/index.html
Reference Number:
M/7254
Source :
IDTS
Last Update: 20 Oct 2022