Assistive Product

PleurX Drainage Minikit
Product Type:
Wound Drainage for Pleural Effusion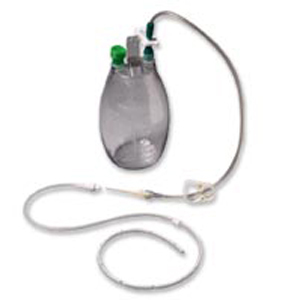 Description:
The drainage kit is intended to provide pain relief and symptom relief without having to undergo repeated punctures or chemical pleurotheses. According to the manufacturer, PleurX products are intended to provide an alternative to these treatment methods. The Pleura Drainage Kit allows to drain the fluid from the pleura on an outpatient basis. All necessary components are included. The drainage kit consists of a drainage bottle containing a vacuum and to which a drainage line is attached. The tip of the drainage line allows a valve on the implanted catheter to be opened. When the clamps on the drainage bottle are opened, the fluid can be drained from the pleura. To use the system, the physician must first implant a pleurex catheter so that the fluid can be drained from the chest. The part of the catheter that lies in the chest has several holes through which fluid can enter the catheter. At the outer end of the catheter is a valve that prevents air from entering and fluid from leaking out when drainage is not occurring.

The contents of the dressing set and the vacuum bottle with connecting tube are sterile and, as a single-use product, cannot be reused. The patient is instructed in the drainage procedure by the physician and can then perform the drainage independently in the home.

The drainage system must be connected to the catheter under sterile conditions. The fluid is drained regularly (daily or bi-daily). As a rule, the catheter remains in place for the entire period. Only the external components are replaced.
Features / Components:
- vacuum-tight reservoir with firmly connected drainage line (500 ml or 1000 ml bottle)
- cleaning cloth
- transparent foil dressing
- blue cloth
- a pair of gloves
- protective cap
- blue emergency clamp
- gauze compresses in size 10 x 10 cm
- slit compresses
Price (without guarantee):
The price is available on request from the manufacturer / distributor.
SHI-Number:
SHI-Medical Technical Aids Register | 01.24.05.0002
Product Information from the Manufacturer / Distributor:
Further Product Details
Further Information
Reference Number:
IW/040321.040
Source :
DIAS
Last Update: 27 Oct 2022