Assistive Product

Atemtherapiegerät Alpha 300 IPPB + PSI ®
Product Type:
Respiratory Therapy Device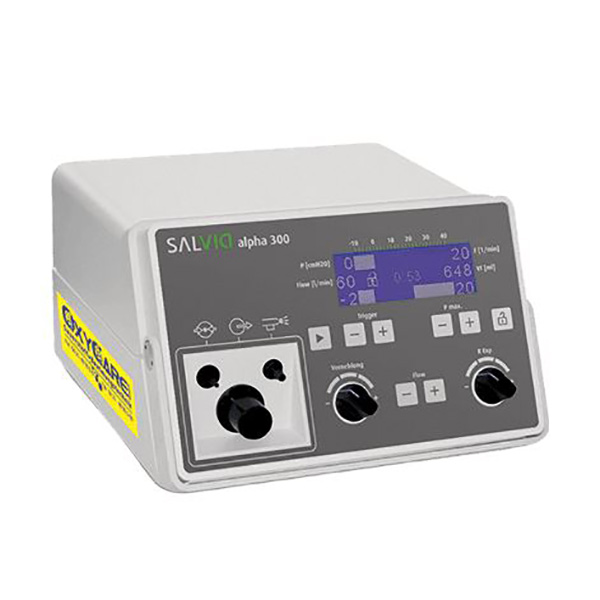 Areas of Application:
- Cystic Fibrosis
- Secretolysis resp. Secretion management in cystic fibrosis / CF,COPD, chronic bronchitis / chronic insufficiency, ALS
- in patients with obstructive airway diseases and respiratory insufficiency
- deflation aid in COPD, atelectasis and alveolar collapse (atelectasis prophylaxis = AP), pulmonary emphysema
- supportive therapy in asthma, patients before and after surgery to strengthen respiratory muscles (AMT), protective breathing due to tumors or similar.
Description:
During IPPB therapy (Intermittend Positive Pressure Breathing), secretion membranes are loosened and the lung areas behind them are ventilated again. Secretion clearance occurs through ciliary activity and coughing thrust. At the same time, atelectatic areas are reopened.

The therapy has a strengthening and dilating effect on the alveolar tissue pre- and postoperatively and contributes to secretion mobilization and atelectasis prophylaxis.
In addition to intermittent positive pressure ventilation, the device can also be used for simultaneous and, above all, targeted, medicated Pressure Support Inhalation (PSI) during the inspiratory phase. PSI allows the aerosol to reach the deep lung areas even during weak respiration.
Features / Components:
- integrated medication nebuliser for optional nebulization
- smoothly adjustable expiratory stenosis
- max. application time of 30min. continuous
- suitable for children and ad
Price (without guarantee):
2.725,00 EUR
(retail price incl. VAT)
Price date: 10.03.2022
Product Information from the Manufacturer / Distributor:
Further Product Details
Further Information
Technical Data:

Control principle: assisted, pressure-controlled ventilation
Pressure setting: 5 - 40 hPa0
Inspiratory flow: 8 - 60 l/min
Trigger (switch-on pressure): -1 to -9 cmH2O
Switch-off pressure: +5 to +40 cmH2O
Exhalation resistance: adjustable
Nebulizer output: sSteplessly adjustable
Breathing rate display: 0 - 99 (1/min)
Noise level: < 70 dB(A)
Power consumption: 150 W
Dimensions (W x H x D): 265 x 165 x 260 mm
Weight: 7 kg
Operating time: max. 30 min
Reference Number:
Hil133870
Source :
DIAS
Last Update: 10 Mar 2022