Assistive Product

multisonic InfraControl 81610
Product Type:
Ultrasonic nebulizer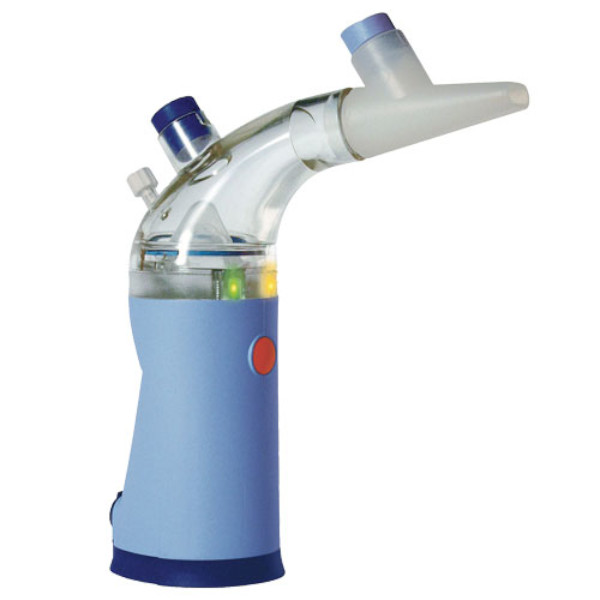 Description:
The Multisonic InfraControl 81610 was specially developed for therapy with expensive drugs. Unlike most other devices, it does not generate its own discharge during aerosol generation. As a result, and with the help of its valve control, less medication is required.

The device is equipped with a pressure-tight nebulizer chamber and the valves are located outside the aerosol flow, which prevents aerosol from sticking to the valves. Nearly 90 percent of the drug aerosol generated in the nebulizer chamber is available at the mouthpiece.
Features / Components:
- ultrasonic inhalation device multisonic InfraControl 81610
- nebulizer head
- mouthpiece
- Luer/Lock closure cap
- inhalation valve
- exhalation valve
- T-piece
- sealing plug
- sealing ring
- baffle plate
- medication insert
- power supply
Price (without guarantee):
Price is available upon request from the manufacturer/distributor.
Product Information from the Manufacturer / Distributor:
Further Product Details
Further Information
Technical Data:

Dimensions: 6.3 x 22 x 17 cm
Weight incl. Power supply unit: approx. 600 g
Filling quantity nebuliser: 2-5 ml
Residual quantity: less than 1 ml
Voltage: 100 V - 240 V AC; 50 Hz - 60 Hz or DC 12 V
Power consumption: max. 12 watts
Frequency: 1.7 MHz
Nebulizer output: 0.6 ml/min
Volume: less than 15 dB (A)
Droplet size: approximately 3.5 to 4.5 microns
Order number: 81610
Pharma central number: 2416561


Options / Accessories:
- Rechargeable battery 12 V DC
- Flexible holder
- Tripod clamp with device holder and ball
- Reusable medication inserts
- Filter inserts
- Responder set
- Tube system ventilation
- Tracheostoma set
- Quarterly set
- Annual set ventilation
Reference Number:
Hil135627
Source :
DIAS
Last Update: 1 Aug 2022