Assistive Product

FLO EOLO
Product Type:
Nozzle Nebulizer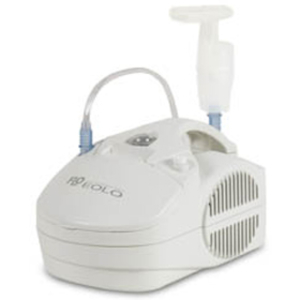 Description:
FLO EOLO is a compressor nebulizer for aerosol therapy. Designed for home care, the device is designed with a convenient handle and an internal compartment. It allows convenient transport and storage of accessories and medications.
Features / Components:
- for lower respiratory tract
- with carrying handle
- suitable for continuous use
Delivery:
- HI-FLO Jet nebuliser
- adult mask with elastic headgear
- pediatric mask with elastic headgear
- mouthpiece
- nosepiece (non-invasive)
- air tubing
- air fi
Price (without guarantee):
Price is available on request from the manufacturer / distributor.
SHI-Number:
SHI-Medical Technical Aids Register | 14.24.01.0117
Product Information from the Manufacturer / Distributor:
Weitere Details des Herstellers (Englisch)
Weitere Details des Vertriebs (Medutek)
Further Information
REHADAT does not sell any products
Please contact the manufacturer or distributor.
Manufacturer:
CA-MI srl
Via Ugo La Malfa, 13
43013 Frazione Pilastro - Langhirano
Italy Telephone: +39 521 637133 Email: export@ca-mi.it Homepage: http://www.ca-mi.eu
Distributor:
MEDUTEK Handelsgesellschaft für Medizintechnik mbH & Co. KG
Stresemannstr. 54
28207 Bremen
Germany Telephone: 0421 42748-0 Email: info@medutek.com Homepage: https://www.medutek.com/
Technical Data:

Weight: 1.65 kg
Dimensions (W x H x D): 12 x 14 x 22 cm
Voltage: 230 V AC, 50 Hz; 12 V DC
Operating noise: 55 dB (A)
Nebulizer output: 0.4 l/min
Flow: 5 l/min
Operating pressure: 1.1 bar
Med. Mass diameter: 2.44 micrometer
Particle size: > 80 % (< 5 micrometer)
Operating mode: continuous operation
Reference Number:
IW/040306.121
Source :
DIAS
Last Update: 9 Aug 2022