Assistive Product

Papoose
Product Type:
Plastic cervical orthosis for babies and toddlers, immobilizing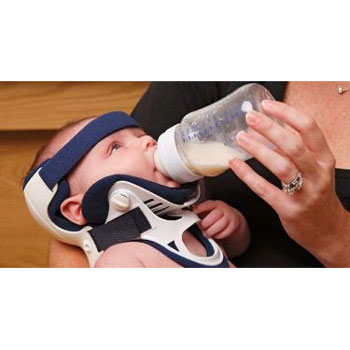 Indications:
- Cervical weakness- (sub-) dislocations of the cervical spine
Description:
This cervical orthosis was specially developed for newborns (according to Broselow-Gray), babies and toddlers. The orthosis gently and securely embraces the babys body. It supports and immobilizes the head without changing the airways and the course of the spine.
Features / Components:
- safe and gentle immobilization of the neck and neck area
- no impairment of the airways and spine
- shaped occipital shell for gentle positioning
- Positioning without developing deformities
- Effective cervical spine immobilization for small children up to 3 months
- Unhindered body contact between caregiver and child possible
- MRI, CT & X-ray perme
Price (without guarantee):
The price is available on request from the manufacturer / distributor.
Product Information from the Manufacturer / Distributor:
Further Product Details
Further Information
Options / Accessories:
- Item number PAP-100: Papoose replacement pad and PO front part replacement pad
- item number POP-100: Papoose replacement pad individually


Versions:
- without PO front part, item number PO-100
- without PO front part, with replacement pad, item number POR-100
- with PO front part, Item number PA-100
- with PO front part, with exchange pad, item number PAR-100
Reference Number:
OW/00956
Source :
IW
Last Update: 6 Oct 2020