Assistive Product

OHP3 pneumatisches Kniegelenk
Product Type:
Pneumatic knee joint, polycentric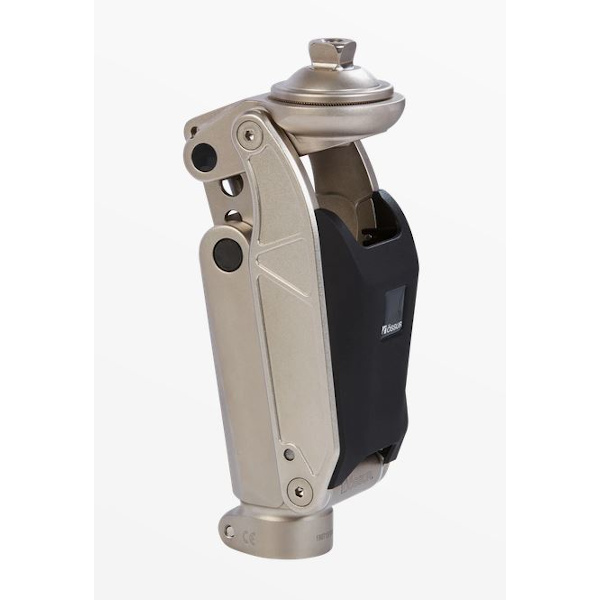 Areas of Application:
- for mobility classes 2 and 3
- for above-knee amputees
- for knee disarticulations
- for moderately active users who need a high level of safety
- also for first aid
Description:
For first aid can the joint can initially be adjusted to inactive patients and, depending on the progress of the walking school, adapted to the mobility progress. The joint secures the prosthesis even with small steps, e.g. B. can be carried out when rotating around the prosthesis side, when walking on stairs and on uneven floors.

The construction enables the prosthesis to be built up without shortening it, in order to avoid any late effects, such as B. To minimize intervertebral disc problems, knee problems on the existing leg, on the existing bone structure.
Features / Components:
- knee joint, 5-axis construction
- with stable aluminum frame construction
- allows safe and comfortable standing
- reduction of stretching of the foam cosmetics in the sitting position
- Can be moved up to 5 mm AP / ML
- Very easy unlocking in the dorsal stop
- Locking even with small steps for high stance phase security
- Integrated AP shifting with extended joint
- Separately adjustable flexion and extension of the pneumatics
- High-performance pneumatics (comes close to hydraul
Price (without guarantee):
The price is available on request from the manufacturer / distributor.
Product Information from the Manufacturer / Distributor:
Further Product Details
Further Information
Technical Data:
proximal connection: adjusting core
distal connection: integrated 30 mm pipe connection
swing phase: high-performance pneumatics, construction-related external ground clearance
stance phase: 5-axis locking geometry
axes: polycentric
material: aluminum
flexion angle without shaft: approx. 150 degrees
total installation height: approx. 222 mm
effective construction height: approx. 175 mm
construction height: approx. 34 mm
integrated constructive shortening of the prosthesis: 1.5 cm
weight: 855 g
weight limit: 100 kg
designation: OHP3 knee joint
Reference Number:
PU/01365
Source :
IW
Last Update: 12 Mar 2021