Assistive Product

Total Knee 2100
Product Type:
Hydraulic knee joint, polycentric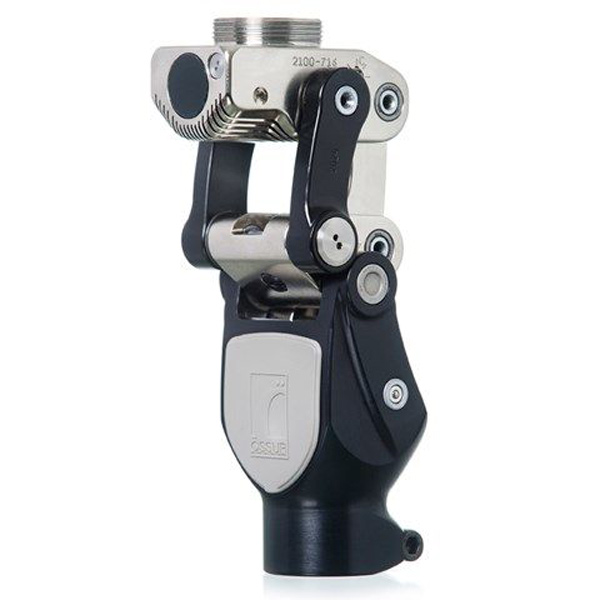 Indications:
- for transfemoral amputees and knee disarticulated
- for patients up to max. 125 kg body weight
- for mobility grade 3 and 4
Description:
The polycentric knee joint is robust, resilient, durable and thus meets the mobility and load requirements of very active users. The aluminium frame, which weighs only 900 g, makes the knee joint one of the lightest hydraulic systems on the market. The 2100 model has 25% more hydraulic fluid capacity compared to the Total Knee Model 2000, with cooling fins for better temperature distribution and reliable swing phase control. The adjustable extension aid is specially designed for users who want faster extension and reduced heel lift.
Features / Components:
- Polycentric (seven-axis) knee joint with geometric locking system for different - - walking speeds and higher load/mobility
- Distal connection for 30 mm tube
- Adjustable flexion resistance
- Adjustable extension aid and stretch stop
- Low overall height
- proximal with connection thread for adapter components
- distal with tube clamp connection 30 mm
- Knee bend angle: 160 degrees (maximum)
- Weight approx.: 920 g
Price (without guarantee):
The price is available on request from the manufacturer / distributor.
Product Information from the Manufacturer / Distributor:
Further Product Details
Further Information
Reference Number:
PU/01558
Source :
IW
Last Update: 18 Mar 2020