Content
Assistive Product

Orbitafacialepithese mit Oberlippendefekt
Product Type:
Composed facial epithesis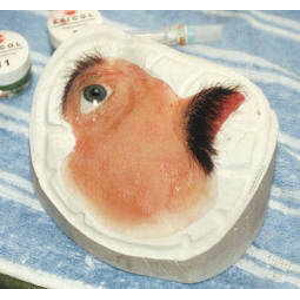 Description:
Facial epitheses (prostheses) are externally worn devices that simulate the appearance of all or part of the face.
This epithesis construction of an orbital facial epithesis with an upper lip defect requires a lot of experience. Due to its large size, taking an impression makes great demands on the abilities of an epithetist. Ultra-thin, transparent edges create a chameleon effect.
Sewing in eyebrows, eyelashes and mustache requires a good eye for the aesthetics and the harmony of the overall picture of the finished work. A state-of-the-art laser welding process is used to attach this very large epithesis using a bar construction made on implants. These laser devices enable homogeneous metal connections and the highest level of precision.
The manufacture of the fastening structure in epithetics actually falls within the area of responsibility of dental technology. This precision mechanical work poses no problems for a master dental technician.
Four to six appointments in the laboratory are required for the production of a glued or implant-supported epithesis.
Since facial epitheses are custom-made, this is just one example of many.
Price (without guarantee):
not specified
Product Information from the Manufacturer / Distributor:
Further Product Details
Further Information
REHADAT does not sell any products
Please contact the manufacturer or distributor.
Manufacturer:
K. Egner Zahntechnik (ZTM)
Hauptstr. 52
89233 Neu-Ulm
Germany Telephone: 0731 62065 Email: kornelius.egner@gmx.net Homepage: https://www.egner-epithetik.de
Distributor:
nur individuelle Anfertigung

Reference Number:
EP/00025
Source :
IW
Last Update: Fri Apr 16 00:00:00 UTC 2021