Assistive Product

medi PTS, Posterior-Tibial-Support-Knie­ruhig­stellungs­schiene
Product Type:
Knee immobilization splint for relief in the extended position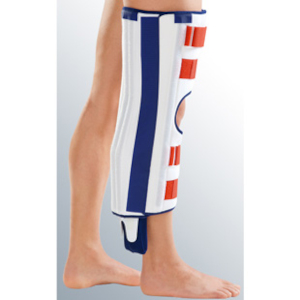 Areas of Application:
- conservative treatment after fresh PCL rupture
- postoperative immobilization after PCL reconstruction
- conservative treatment for chronic PCL insufficiency
- for temporary immobilization after the installation of a knee prosthesis
- Extension deficit with contracted dorsal capsule
- therapy-resistant femoropatellar pain, including patellar tip syndrome
- acute anterior knee pain
Description:
PTS is a knee brace that can be used to treat knee ligament injuries or after the insertion of an artificial knee joint.
With the help of the calf pad The lower leg is placed in a forward position (compared to the thigh) and the knee joint is immobilized. This reduces the pressure on the knee joint and relieves the posterior cruciate ligament.
Features / Components:
- Posterior-tibial support knee immobilization splint (PTS)
- Immobilization of the knee in a 0 degree position
- Individual and quick adjustment to the leg circumference
- individual adjustment of the calf pad length
- removable stabilizing rods medial, lateral and posterior
- skin-friendly, washable terry cloth
- spare parts such as calf pad and pad cover on request
- color: w
Price (without guarantee):
The price is available on request from the manufacturer / distributor.
SHI-Number:
SHI-Medical Technical Aids Register | 23.04.01.3002
Product Information from the Manufacturer / Distributor:
Further Product Details
Further Information
Technical Data:
Rail length Article number
45 cm 5,650,222
55 cm 5,650,223
60 cm 5,650,132
65 cm 5,650.224
Reference Number:
OU/01535
Source :
IW
Last Update: 25 Mar 2021