Assistive Product

TSM Kniebandage mit Patella-Aussparung (PA)
Product Type:
Knee bandage with patella recess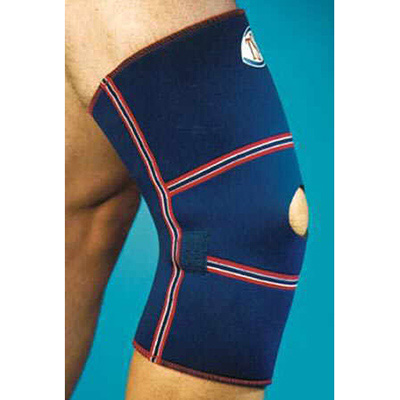 Indications:
- Overload symptoms
- Capsule swelling
- Prevention of hypothermia
- Rheumatoid complaints
- Tendon pain (patellar tendon, hollow of the knee)
Areas of Application:
- Rehabilitation
- Prophylaxis in the sports area
Description:
The bandage can be used to prevent overuse symptoms if good knee stabilization and relief of the patella are to be achieved. However, the prerequisite is the full functionality of the ligament apparatus.
Features / Components:
- anatomically shaped knee support
- covers the knee joint with the distal thigh and proximal lower leg
- covers 15 cm above and below the middle of the knee joint
- even compression
- lateral longitudinal seams
- small, large-volume wrinkles in the hollow of the knee
- no constriction or abrasion in the hollow of the knee and around the edges
- no restriction of movement and no slipping
- heat and sweat dissipation

patella recess
- for guiding and relieving the patella (Kneecap)
- Recess individually adjustable by cutting out
- Recess relieves the patella and the back of the knee during the bending pro
Price (without guarantee):
The price is available on request from the manufacturer / distributor.
Product Information from the Manufacturer / Distributor:
Further Product Details
Further Information
Technical Data:
- Insulating layer: 5 mm
- Front length: 37 cm
- Length of the back of the knee: 27 cm
- Weight: 125 g (size M)
- colors: blue (article number 3109), black (article number 3509)

Size knee circumference
XXS custom-made
XS 25 - 29 cm
S 29 - 33 cm
M 33 - 38 cm
L 38 - 42 cm
XL 42 - 48 cm
XXL 48 - 53 cm
Measuring point: circumference above the center of the patella with the leg extended
Reference Number:
OU/00633
Source :
IW
Last Update: 21 Feb 2020