Assistive Product

DynaCox Hüft-Orthese
Product Type:
Hip and thigh splint for movement control and stabilization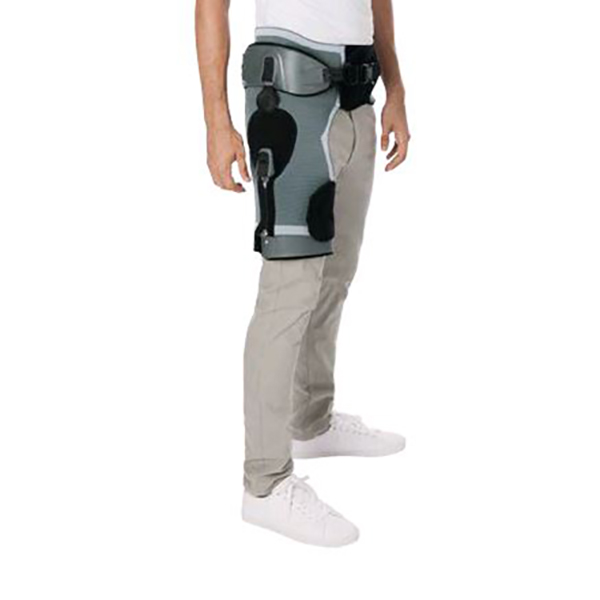 Areas of Application:
- ensures the result of the operation
- luxation prophylaxis
- early functional movement therapy
Indications:
- after reduction of luxated hip joints
- instability after TEP (total endoprosthetic hip intervention)
- Cox osteoarthritis
- muscular imbalance
Features / Components:
- dynamic hip orthosis to avoid luxation of the hip joint
- the orthosis takes into account the bony and muscular conditions equally
- secures the bony structures of the hip joint using a 3-point principle
- the orthosis supports the muscles spanning the hips at the same time - the support is provided by the circular compression bandage made of 3D knitting
the use of CoolMax and silver fibers ensures a pleasant skin climate
- DynaCox with TRI joint: limitation of movement in one movement level
- DynaCox with ROM-FLEX joint: movement limitation in two i Levels of movement
- the orthosis is put together according to dimens
Price (without guarantee):
The price is available on request from the manufacturer / distributor.
SHI-Number:
SHI-Medical Technical Aids Register | 23.05.01.0002
Product Information from the Manufacturer / Distributor:
Further Product Details as PDF
Further Information
Options / Accessories:
For patients under 160 cm tall or with a femur length less than 36 cm, a 4 cm shorter side splint is available (femur length = distance from knee gap - trochanter major).

The thigh straps are interchangeable and can be ordered separately. The thigh straps expand / reduce the U2 (circumference 2) by 3 cm each

For obese patients, the Silva universal torso bandage can also be used to optimally hold the soft tissues.


Versions:
- Different versions for left and right hips
Size information of the standard combinations:
- U1 = circumference of the hip (bandage)
- U2 = circumference of the leg (thigh strap)
- U3 = circumference of the supra-condylar (condyle brace)

Size U1 hip U2 leg U3 super condylar
XS 58 - 70 cm 32 - 44 cm 27 - 35 cm
S 70 - 85 cm 40 - 52 cm 32 - 40 cm
M 85 - 100 cm 48 - 60 cm 37 - 45 cm
L 100 - 120 cm 56 - 68 cm 42 - 50 cm
XL 115 - 135 cm 62 - 76 cm 47 - 58 cm
XXL 130 - 150 cm 65 - 80 cm 47 - 58 cm
There are two joint versions to choose from:
TRI-Flex
- three coupled axes in the Tri-Flex joint
- automatically adapts to the anatomical pivot point during movement
- The flexion is limited to max. 70 degrees limited

ROM-Flex
- monocentric joint
- allows the movement in flexion / extension to be limited in steps of 15 degrees
Reference Number:
OU/02270
Source :
IW
Last Update: 5 Mar 2020