Assistive Product

OB100 Torsionsschiene
Product Type:
torsion splint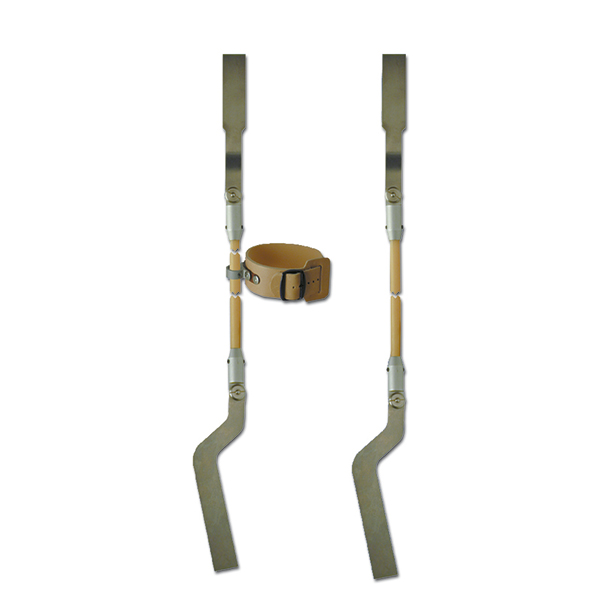 Indications:
- pathological internal rotation of the lower leg and foot
Contraindications:
- skeletal pathological antetorsion of the femoral neck
Areas of Application:
a torsion bar is attached distally in the shoe and proximally to a pelvic belt. This results in a continuously adjustable torsional force and thus the counterforce for treating existing rotational malalignments.
Features / Components:
- Torsion splint is a rotation spring rod orthosis
- Infinitely adjustable torsion force
- Support body for torsion bar made of aluminum
- Torsion bar made of homogeneous elastomer (Vulkolan)
- Calf strap made of leather
- Pelvic belt must be ordered separately
- All parts of the orthosis are also available individually on request
- Torsion bar can be pulled out of the holder by up to 20 mm for exten
Price (without guarantee):
The price is available on request from the manufacturer / distributor.
Product Information from the Manufacturer / Distributor:
Further Product Details
Further Information
Versions:
Torsion bar:
Order number Article number Torsion bar diameter length
OB100-08 4 518 010 00 00 008 complete 8 mm 700 mm
OB100-10 4 518 010 00 00 010 complete 10 mm 800 mm
OB100-12 4 518 010 00 00 012 complete 12 mm 1000 mm
OB100-16 4 518 010 00 00 016 complete 16 mm 1000 mm
OB101-08 4 518 020 00 00 008 without calf strap 8 mm 700 mm
OB101-10 4 518 020 00 00 010 without calf strap 10 mm 800 mm
OB101 -12 4 518 020 00 00 012 without calf strap 12 mm 1000 mm
OB101-16 4 518 020 00 00 016 without calf strap 16 mm 1000 mm

Lap belt:
Order number Article number Circumference
OB102-45 4 518 001 05 00 045 40 to 45 cm
OB102-50 4 518 001 05 00 050 45 to 50 cm
OB102-55 4 518 001 05 00 055 50 to 55 cm
OB102-60 4 518 001 05 00 060 55 to 60 cm
OB102-65 4 518 001 05 00 065 60 to 65 cm
OB102-70 4 518 001 05 00 070 65 to 70 cm
OB102-75 4 518 001 05 00 075 70 to 75 cm
OB102-80 4 518 001 05 00 080 75 to 80 cm
Reference Number:
OU/00288
Source :
IW
Last Update: 1 Dec 2020