Assistive Product

Tricodur MyoMotion
Product Type:
Thigh brace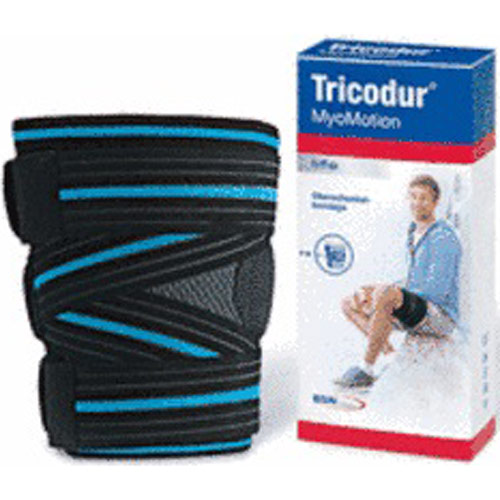 Indications:
- Muscle strains
- Bruises
- Small muscle fiber tears
- Muscle hardening (myogelosis) of the rear thigh or quadriceps muscle
Duration of use: several weeks
Description:
The Tricodur MyoMotion thigh brace supports and stabilizes with targeted compression Weak or injured thigh muscles.
Tricodur MyoMotion can promote blood circulation, helps reduce swelling and edema and protects against renewed overstretching of the injured muscle.
Features / Components:
- Pressure relief zone for reduced compression in the injury area
- Closure system made of circular and Y -shaped belts
- individual adjustment of the compression
- non-slip fit without wrinkling
- wearable on the right and left
- skin-friendly and breathable
- washable at 30 degrees C
- material: polyamide, elastane
- latex-free
- packaging unit:
Price (without guarantee):
The price is available on request from the manufacturer / distributor.
SHI-Number:
SHI-Medical Technical Aids Register | 05.06.01.1001
Product Information from the Manufacturer / Distributor:
Further Product Details
Further Information
Versions:
Size leg circumference Order No.
S 41 - 45 cm 72957-25
M 45 - 50 cm 72957-26
L 50 - 56 cm 72957-27
XL 56 - 63 cm 72957-28
XXL 63 - 70 cm 72957-29
Measure thigh circumference in the middle of the thigh (with a flexion of 30 degrees)
Reference Number:
OU/02415
Source :
IW
Last Update: 6 Apr 2021