Assistive Product

Clubax Knöchel- / Fußorthese
Product Type:
Clubfoot correction orthosis (multiaxial)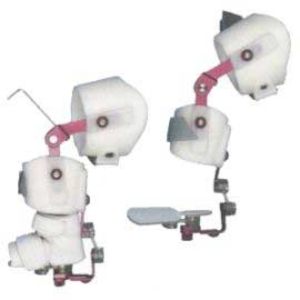 Indications:
- Metatarsus varus
- Metatarsus adductus
- Talus valgus
- Pes talus
- Pes varus
- Pes supinatus
- Pes valgus
- Tibial rotational deformity
- Clubfoot
Description:
The Clubax ankle / foot orthosis is to be used in addition to the Bébax foot reduction orthosis. It takes over the rotation control of the foot.
A positioning of the forefoot in relation to the rear foot in all directions and a positioning of the foot in relation to the lower leg in all directions is possible. The footplate can be exchanged for the Bébax foot reduction orthosis.
Features / Components:
- with free or adjustable joint
- Orthosis made of anodized duralumin connecting rails and cuffs
- Cuffs made of copolymer, padded with polyethylene foam
- Adaptation to the Bébax orthosis is only possible up to siz
Price (without guarantee):
The price is available on request from the manufacturer / distributor.
Product Information from the Manufacturer / Distributor:
Further Product Details
Further Information
Versions:
- different designs for left and right foot
- the orthosis is available in two sizes (small and large)
- with free or adjustable joint
Reference Number:
OU/00896
Source :
IW
Last Update: 1 Mar 2021