Assistive Product

CTS, Handgelenkorthese mit Fingerauflage
Product Type:
Wrist and forearm splint with finger rest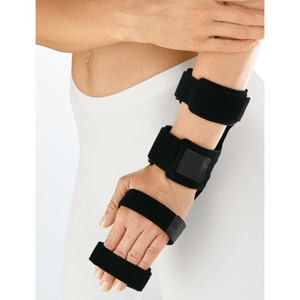 Areas of Application:
- Treatment of nerve compression syndrome in the hand (carpal tunnel syndrome)
- Immobilization of the fingers and wrist after injury
Description:
During the safe immobilization of the fingers and the wrist, a reduction is achieved achieved by swelling, inflammation and pain. The orthosis also accelerates wound healing.
Features / Components:
- Wrist orthosis with finger rest
- Open and extremely light construction
- Anatomically pre-shaped, volar splint
- Stabilization of the forearm close to the wrist up to the finger joints
- Subsequent, individual adjustment of the Rail (without tools)
- Hand in neutral position
- Universal for right and
Price (without guarantee):
The price is available on request from the manufacturer / distributor.
SHI-Number:
SHI-Medical Technical Aids Register | 23.07.02.1009
Product Information from the Manufacturer / Distributor:
Further Product Details
Further Information
Versions:
Size hand length Article number
0 to 15 cm R.110.000
1 15 - 17 cm R.110.001
2 17 - 19 cm R.110.002
3 19 - 22 cm R.110.003
Measuring points: wrist to middle finger tip
Reference Number:
OO/01285
Source :
IW
Last Update: 26 Mar 2021