Assistive Product

Manumed T
Product Type:
Orthosis for wrist and thumb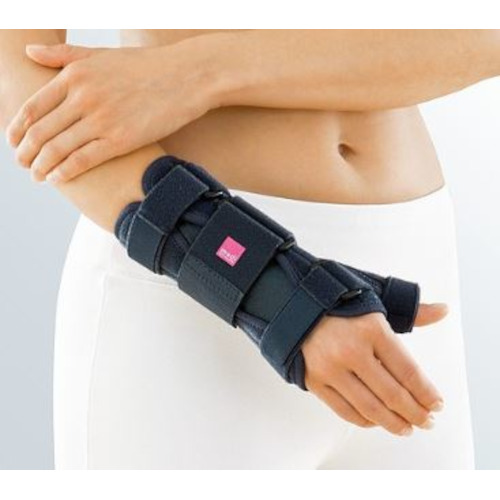 Indications:
- Distortions of the wrist and / or thumb
- Postoperative immobilization of the wrist and thumb
- Collateral ligament lesions of the metacarpophalangeal joint of the thumb
- Tendinitis, tendovaginitis of the wrist and / or the thumb
- Inflammatory Phases in rheumatic diseases
- Rhizarthrosis
Contraindications:
- Unstable fractures in the hand area
Description:
The Manumed T is a wrist orthosis with thumb fixation that immobilizes both the wrist and the metacarpophalangeal joint. The user simply slips into the orthosis. With the integrated retention loops, it is easy to put on with one hand. The aluminum rail can be individually adapted to the hand and the breathable medi Airtex material ensures a comfortable fit.
Price (without guarantee):
The price is available on request from the manufacturer / distributor.
SHI-Number:
SHI-Medical Technical Aids Register | 23.07.02.2017
Product Information from the Manufacturer / Distributor:
Further Product Details
Further Information
Reference Number:
Hil134881
Source :
IW
Last Update: 30 Mar 2021