Assistive Product

Schwenk-Arm Bremse
Product Type:
Swivel Arm Brake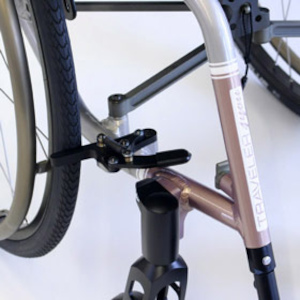 THE PRODUCT IS NO LONGER PRODUCED, BUT IS STILL AVAILABLE UNDER CIRCUMSTANC
Description:
The brake pin is moved down and swivels away from the drive wheel when the brake is opened. There is no danger of pinching fingers between the brake pin and the drive wheel tyre when reaching onto the tyre tread to drive.
Features / Components:
- Brake lever: short
- Brake lever position: lower frame tube
Price (without guarantee):
The price is available on request from the manufacturer / distributor.
Product Information from the Manufacturer / Distributor:
Weitere Details des Herstellers
Further Information
Reference Number:
M/26317
Source :
IW
Last Update: 21 Oct 2021