Assistive Product

Banana-Board Q2 XXL
Product Type:
Slide board for wheelchair transfer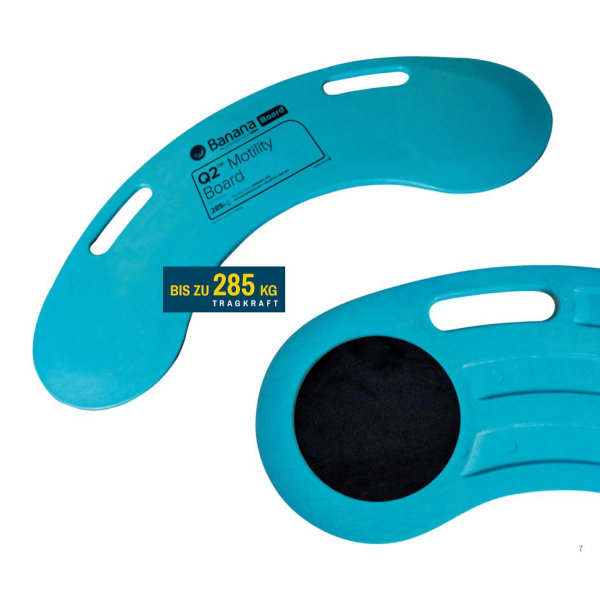 Areas of Application:
- bariatric
- side to side transfer
- straight transfer
- bed to wheelchair, wheelchair to chair transfer
- wheelchair to chair transfer
- wheelchair to toilet transfer
Description:
The transfer board can be used for side to side or straight transfer.
Typical applications are transfer from bed to wheelchair, from wheelchair to chair or from wheelchair to toilet.
Features / Components:
- made of non-stick material
- rubber plates for more assurance during transfer
- carrying handle for easy handling
- rounded edges for less risk of in
Price (without guarantee):
121,00 EUR incl. VAT
End user price
Product Information from the Manufacturer / Distributor:
Further Product Details
Further Information
REHADAT does not sell any products
Please contact the manufacturer or distributor.
Manufacturer:
no data available

Distributor:
Alltagshilfen Schmid Renate
Alltagshilfen - Verbrauchsartikel - Homecareprodukte
Thannstr.10
5322 Hof
Austria Telephone: +43 650 6668881 Email: office@sanimed.at Homepage: https://www.alltagshilfen24.com
Technical Data:

Size; 75 x 33,8 cm
Product Weight: 1,6 kg
Load Capacity: up to 285 kg
Reference Number:
Hil134471
Source :
IDTS
Last Update: 17 Jun 2022