Assistive Product

Rutschbrett Alpha
Product Type:
Slide board for children and adults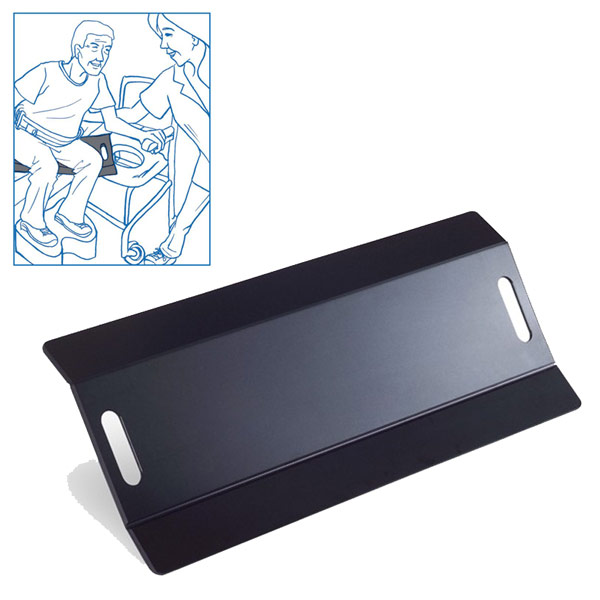 Description:
The slide board is used to transfer a people e.g. to the wheelchair and to the toilet. Since it is flexible, it is particularly suitable for bridging small height differences. The sliding board facilitates the transfer, because the person does not have to stand up anymore, but can change the position sitting independently or with support. The slide board has a very smooth surface, is three-part and foldable lengthwise, and it is flexible.
Features / Components:
- Material polyethylene
- Color b
Price (without guarantee):
125,22 EUR including VAT (distribution)
End user price
SHI-Number:
SHI-Medical Technical Aids Register | 22.29.01.3000
Product Information from the Manufacturer / Distributor:
Further Product Details
Further Information
REHADAT does not sell any products
Please contact the manufacturer or distributor.
Manufacturer:
Petermann GmbH
Waldweg 3
91601 Dombühl
Germany Telephone: 09868 9339-0 Email: petermann@pm-med.de Homepage: https://www.pm-med.de/de/
Distributor:
Sanitätshaus SEMED
Nicole Döhler
Neuplanitzer Str. 94
08062 Zwickau
Germany Telephone: 0375 28555130 Email: mail@semed.de Homepage: https://www.semed.de
Technical Data:

Dimensions: 73 x 32 cm
Max. Load capacity: 200 kg
Reference Number:
M/10074
Source :
IDTS
Last Update: Mon Jun 20 00:00:00 UTC 2022