Content
Assistive Product

FloJac Airbed
Product Type:
Air-assisted lifting cushion for people who have fallen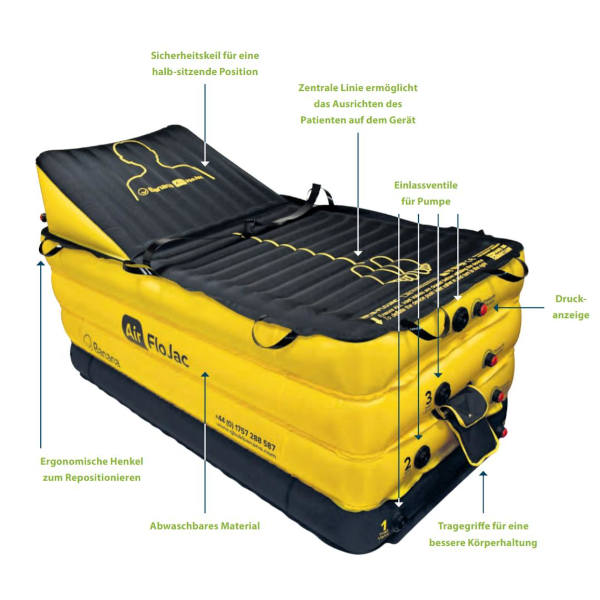 Areas of Application:
- caregiving assistive products
- lifting patients after a fall
Description:
The FloJac is an air-assisted lifting device that helps caregivers lift patients off the floor after a fall.
The multi-layer system is flat when uninflated and inflates layer by layer.
Features / Components:
- reusable
- safety wedge for a semi-sitting position
- central line allows patient to be aligned on the device
- inlet valve
- pressure indicator
- carrying handles for better posture
- ergonomic handles for repositioning
Price (without guarantee):
The price is available on request from the manufacturer / distributor.
Product Information from the Manufacturer / Distributor:
Further Product Details
Further Information
REHADAT does not sell any products
Please contact the manufacturer or distributor.
Manufacturer:
no data available

Distributor:
KREIENBAUM Neoscience GmbH
Heinrich-von-Stephan-Str. 9
40764 Langenfeld
Germany Telephone: 02173 39927-0 Email: info@kreienbaum-neo.de Homepage: https://www.kreienbaum-neo.de/
Technical Data:

Model: Ordering Number: Width:
FloJac B-Flo Jac32 approx. 81 cm
FloJac B-Flo Jac39 approx. 100 cm
Reference Number:
Hil134474
Source :
IDTS
Last Update: 17 Jun 2022