Content
Assistive Product

Bettleiter
Product Type:
Handle Ladder, Rope Ladder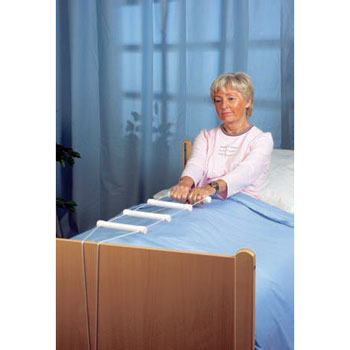 Description:
The handle ladder is suitable for raising in bed in case of minor disabilities. The two holding cords are attached to the foot end of the bed.
Handles made of plastic
Price (without guarantee):
17,28 EUR including VAT (sales)
End user price
Product Information from the Manufacturer / Distributor:
Further Product Details
Further Information
REHADAT does not sell any products
Please contact the manufacturer or distributor.
Manufacturer:
no data available

Distributor:
Servoprax GmbH
Am Marienbusch 9
46485 Wesel
Germany Telephone: 0281 95283-0 Email: info@servoprax.de Homepage: https://www.servoprax.de
Technical Data:

Cord length: 3 m
Reference Number:
M/5203
Source :
IDTS
Last Update: 3 Jun 2022