Assistive Product

Chat Rikscha Transportfahrrad
Product Type:
Rickshaw and transport bike with electric pedal assistance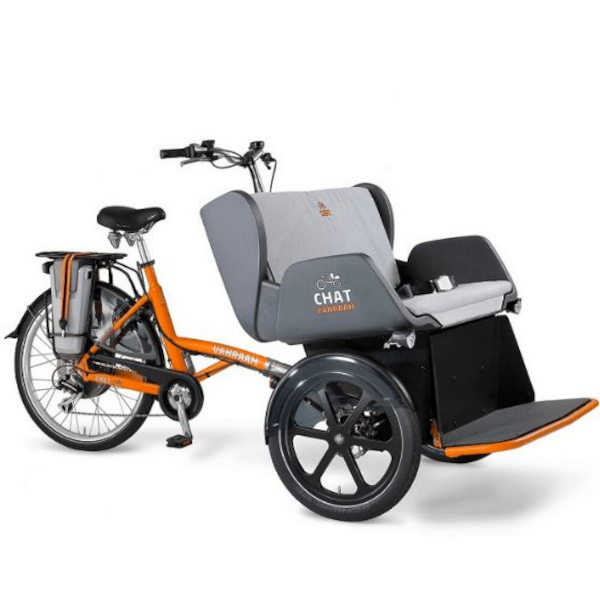 Areas of Application:
- for outdoor use
- riding with accompanying person
- as a transport bike
Description:
The rickshaw bike is designed to ride together with children and/or adults who are no longer able to participate in road traffic alone. An accompanying person rides with one or two people. The two people who are passengers sit side by side on a specially designed bench seat. The driver sits behind this cockpit and thus has an overview of the road, but also of the passengers.
The rickshaw transport bike comes with electric pedal assistance.
The bike with electric pedal assist comes with an app as a smart e-bike. One can use it to view information about the battery and the bike remotely. For example, one can use the app to plan bike routes and see where the bike is.
It is possible to have a canopy mounted on the bike.
Features / Components:
- 8 speed gears
- hydraulic disc brakes
- Silent electro HT (pedal assist)
- automatic way assist
- environmentally friendly powder coating
- hip belt
- parking brake
- steering damper
- automatic lighting
- access to e-bike app
- no driving license required
- pedal assist with reverse function
- get on through adjustable foot plate
- luggage compart
Price (without guarantee):
from 8.740,00 EUR plus VAT. (manufacturer)
End user price
Product Information from the Manufacturer / Distributor:
Further Product Details
Händlerliste in Deutschland
Further Information
Technical Data:

Inside front leg length: 80-95 cm
Entry height: 52 cm xml-ph-001 97 kg
Max. Length bike: 232 cm
Max. Width Bike: 111 cm
Front Wheel Size: 20"
Rear Wheel Size: 26"
Max. User Weight Rider: 120 kg
Max. User weight passenger: 200 kg
Reference Number:
Hil134916
Source :
IDTS
Last Update: 16 Mar 2022