Assistive Product

Protego
Product Type:
Handrim wheelchair,
Multifunctional wheelchair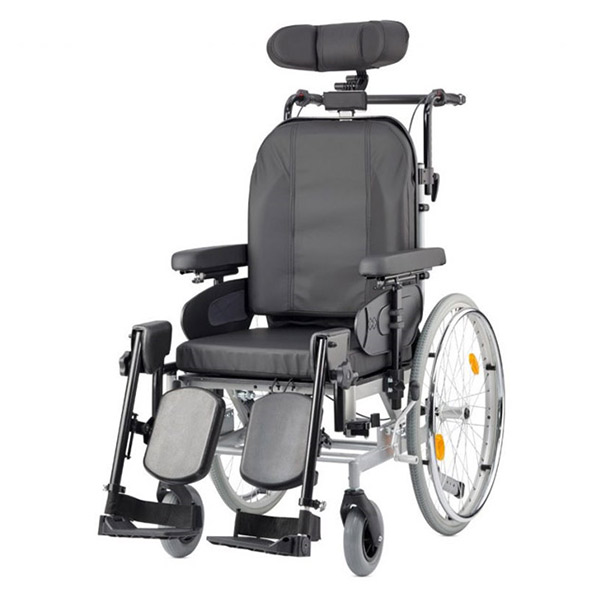 Description:
The Protego multifunctional wheelchair has an ergonomically shaped back shell, an angle-adjustable backrest and a seat tilt. It has various adjustment options and is available with or without drum brake.
Features / Components:
- Frame: Tubular steel frame
- Headrest: adjustable
- Push handles: height adjustable
- Back: backrest upholstered, backrest anatomically shaped, height adjustable, angle adjustable, back cover
- Seat: seat cover
- Seat dimensions: selectable seat width, depth adjustable, angle adjustable
- Side panels: removable, depth adjustable, height adjustable
- Armrests: padded
- Legrests: horizontally adjustable, length adjustable
- Footrests: angle adjustable, split
- Tyres: drive wheels: puncture-proof PU tyres; castor wheels: PU tyres
- Brake: parking brake
- Other: quick-release axle, side pads, knee pads, calf pads, tipping aid, passive lighting
- Colours: frame: Silver; Cover: night
Price (without guarantee):
Basic model Protego (without TBB): 1.990,00 EUR
Basic model Protego (with TBB): 2.200,00 EUR

The prices are recommended retail prices plus VAT.
SHI-Number:
SHI-Medical Technical Aids Register | 18.50.02.7057
SHI-Care Aids Register | 50.45.07.2028
Product Information from the Manufacturer / Distributor:
Further Product Details
Further Information
Technical Data:

Overall width: SB +19 cm
Overall length: 85 / 121 cm (without / with leg supports)
Overall height: 102 cm
Seat width: 39 - 41.5 cm / 44 - 46.5 cm / 49 - 51.5 cm
Seat depth: 42 - 48 cm
Seat height: 43 cm
Seat angle: 0 to +15 degrees
Back height: 58 - 64 cm
Back angle: 0 to +44 degrees
Drive wheels. 24 inches
Steering wheels: 7 inches
Weight: from 30.8 kg
Load capacity: 130 kg


Options / Accessories:
- Seat: abduction pad
- Armrests. for hemiplegics left / right
- Footrests: one-piece
- Wheels: Transit wheels
- Brake: Brake lever extension
- Other: Togo push aid, safety belt, therapy table, infusion bottle holder
Reference Number:
IW/122203.515
Source :
IW
Last Update: 26 Oct 2021