Assistive Product

Levia Basculante D
Product Type:
Nursing wheelchair, push wheelchair
Option: Push wheelchair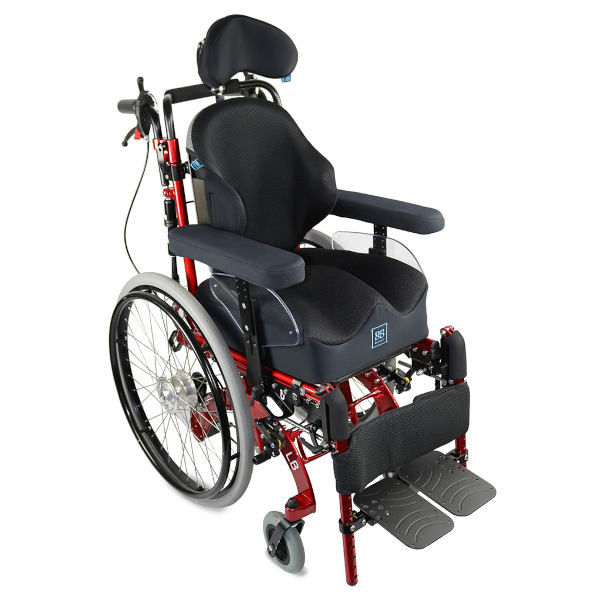 Description:
The Levia Basculante D is a nursing wheelchair with various adjustment options. It is available as wheelchair base frame as Levia Basculante A (
Levia Basculante A
). The wheelchair is suitable for passenger transport in vehicles (crash tested).
Features / Components:
- Frame: rigid
- Push handles / push bar
- Back: angle adjustable, padded
- Seat: padded, seat shell
- Seat dimensions: Seat tilt, selectable seat width, selectable seat depth, depth adjustable, angle adjustable
- Leg rests: removable, calf rest
- Foot rests: one-piece / split, fold up, height adjustable,angle adjustable, depth adjustable
- Drive: Handrim drive / push drive
- Wheels: selectable wheel sizes
- Tires: rear wheels: pneumatic tires / PU tires; steering wheels: PU tires
- Brake: drum brake
- Color: frame: various co
Price (without guarantee):
Basic model Levia Basculante D: 3,859.00 EUR plus VAT (recommended retail price)
Product Information from the Manufacturer / Distributor:
Levia Basculante D
Further Information
Technical Data:

Overall width: 53.6 / 57.6 / 59.6 / 61.6 / 63.6 cm
Overall length: 110 - 120 cm
Seat width: 38 / 42 / 44 / 46 / 48 cm
Seat depth: 38 - 44 / 44 - 50 / 46 - 52 / 48 - 54 / 50 - 56 / 52 - 58 / 54 - 60 / 56 - 62 / 58 - 64 / 60 - 66 cm
Seat tilt: 0 to 30 degrees
Back height: 45 / 50 cm; 55 cm (extra charge)
Back angle: 90 - 125 degrees
Rear wheels: 12.5 / 16 inch (push drive); 20 / 22 / 24 inch (handrim drive)
Steering wheels: 5 / 6 / 7 inch
Weight: 30 kg
Load capacity: 150 kg


Options / Accessories:
- Frame: foldable
- Headrest
- Back: various back systems, lumbar cushion
- Seat: various seat systems
- Side panels: padded
- Armrests: padded, various versions
- Legrests: angle adjustable, knee guide
- Footrests: foot fixation
- Drive: single hand drive
- Push rims: Double handrims
- Other: Therapy table, anti-tilt device, tilt aid, abduction wedge, safety belts, special design
Reference Number:
Hil135745
Source :
IW
Last Update: 19 Oct 2022