Assistive Product

Netti 4U CED / CEDS
Product Type:
Rigid frame manually controlled wheelchair,
Multifunctional wheelchair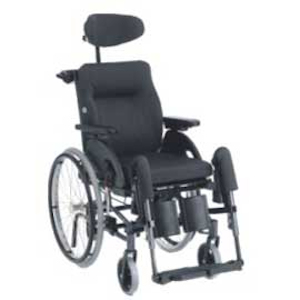 Description:
The Netti 4U CED is a multifunctional wheelchair with a narrow overall width. The wheelchair is suitable for transporting people. It is available in two versions (CED / CEDS) with different seat depths.
Features / Components:
- Frame: Aluminium frame, rigid
- Push bar: angle adjustable
- Headrest: with side guide
- Back: back cushion with torso guide, angle adjustable, adjustment back / aluminium (fixed)
- Seat: seat cushion, fixed seat plate
- Seat dimensions: selectable seat width, selectable seat depth, height adjustable
- Armrests: padded, height adjustable, depth adjustable
- Legrests: angle adjustable, leg length adjustment, with calf plate (height adjustable / depth adjustable)
- Footrests: split, angle adjustable, height adjustable
- Drive: handrim drive
- Wheels: selectable wheel sizes
- Tyres: drive wheels: puncture-proof PU tyres; steering wheels: PU foam tyres
- Brake: knee lever brake
- Other: anti-tipper, quick-release axle, tipping aid
- Colours: frame: graphite-grey; cover:
Price (without guarantee):
Basic model Netti 4U CED / CEDS: 3.154,00 EUR plus VAT. (recommended retail price)
SHI-Number:
SHI-Medical Technical Aids Register | 18.50.02.7044
SHI-Care Aids Register | 50.45.07.2019
Product Information from the Manufacturer / Distributor:
Weitere Details des Herstellers
Weitere Details des Vertriebs
Further Information
Technical Data:

Overall width: SB +18 cm
Overall length: 102 cm
Overall height: 105 cm
Seat width. 35 / 40 / 43 / 45 / 50 cm (some with surcharge)
Seat depth: 42.5 / 45 / 47.5 / 50 cm (CED); 37.5 / 40 / 42.5 / 45 cm (CEDS) (some with surcharge)
Seat height: 44 - 50 cm
Seat tilt: -5 to +20 degrees
Back height: 50 - 60 cm
Back angle: 92 - 137 degrees
Lower leg length: 32 - 68 cm
Drive wheels: 22 / 24 inch (some with surcharge)
Steering wheels: 6 / 7 inch (some with surcharge)
Weight: 29 kg
Load capacity: 160 kg (CED) / 130 kg (CEDS)
User weight for passenger transport: 136 kg (CED) / 130 kg (CEDS)


Options / Accessories:
- Frame. Frame extension
- Push handles: height adjustable, swivel
- Headrest: various
Versions:
cover, various cushions, with swivel function
- Back: various cushion versions, Dynamic FREE gas cylinder (back tilt), back angle limiter, adaptable back upholstery
- Seat: reduction cushion, seat width extension, pressure relief cushion, with incontinence cover
- Side sections: side pad (height adjustable, side adaptable)
- Leg supports. Universal legrests (with knee angle adjustment), amputation legrests, dynamic Versions, padding, extra abduction
- Armrests: various Versions, for hemiplegics
- Footrests: foot fixation, divided / one-piece, fold up, lockable, ankle strap
- Drive: one-hand drive
- Handrims. Handrim cover
- Wheels: selectable wheel sizes, with integrated suspension
- Tyres: drive wheels: pneumatic tyres
- Brake: drum brake, brake lever extension
- Miscellaneous: mounting kit for car transport, abduction wedge small / medium / large, therapy tables, various safety belts, infusion bottle holder, Decon drive system (electric)
Reference Number:
IW/122203.243
Source :
IW
Last Update: 2 Nov 2021