Assistive Product

Liege-Lift-Rollstuhl Tina ENH 200
Product Type:
Push wheelchair, nursing wheelchair with sitting and lounger function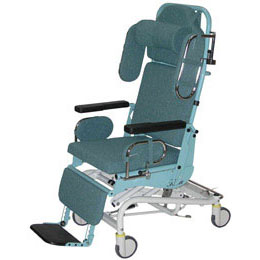 Description:
Tina ENH 200 lounger lift wheelchair is adjustable by electric motor. It has a load capacity of up to 200 kg and can be operated with either battery or mains power.
Features / Components:
- Frame: Steel
- Push handles
- Back: upholstered, angle adjustable
- Seat: upholstered
- Seat dimensions: height adjustable, electrically adjustable, angle adjustable, reclining function
- Armrests: fold up, upholstered
- Footrest: electrically height adjustable, fold away
- Wheels: easy-roll castors with directional lock
- Brake: central brake system
- Other: stand-up aid
- Color: Cover: turquoise / silver
Price (without guarantee):
The price is available on request from the manufacturer / distributor.
Product Information from the Manufacturer / Distributor:
Further Product Details
Further Information
Technical Data:

Seat height: 58.5 - 80.5 cm
Load capacity: 200 kg


Options / Accessories:
- Headrest: various Versions
- Side parts: upholstered
- Legrest: upholstered
- Footrest: heel pad
- Other: Therapy table (upholstered), holding straps, intensive care rails, infusion bottle holder
- Color: Cover: various colors
Reference Number:
IW/122218.020
Source :
IW
Last Update: 10 May 2022