Assistive Product

Netti III XHD
Product Type:
Handrim wheelchair with rigid frame,
Multifunctional wheelchair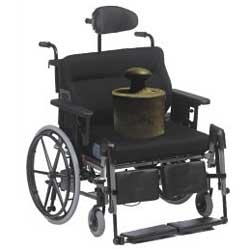 Description:
The Netti III XHD wheelchair is a multifunctional wheelchair suitable for heavy users with a load capacity of up to 200 kg.
Features / Components:
- Frame: rigid, sub-frame with double gas pressure spring
- Push handles: height adjustable, swivel
- Headrest: stabilizer
- Back: lateral guide pad, adjustment back
- Seat: cover, pressure relief cushion, with incontinence protection cover, reinforced seat plate
- Seat dimensions: selectable seat width, selectable seat depth
- Arm rests: padded, reinforced support, removable, height adjustable, depth adjustable
- Legrests: angle adjustable
- Footrests: one-piece
- Drive: push rim drive
- Tyres: drive wheels: HD Flexel; castor wheels: PU foam tyres with reinforced fork
- Brake: knee lever brake
- Other: tipping aid, anti-tip device
- Colour: frame: silver; cover: b
Price (without guarantee):
Basic model Netti III XHD: 7,840.00 EUR plus VAT. (recommended retail price)
Product Information from the Manufacturer / Distributor:
Weitere Details des Herstellers
Weitere Details des Vertriebs
Further Information
Technical Data:

Total width: SB +24 cm
Total length: 102 cm
Total height: 105 cm
Seat width: 50 / 55 / 60 cm
Seat depth: 40 / 42.5 / 45 / 47.5 / 50 cm
seat height: 47,5 - 48,5 cm
Seat angle: -9 to +16 degrees
Back height: 50 / 60 cm (partly with surcharge)
Back angle: 86 to 133 degrees
Drive wheels: 24 inch; 12 inch (extra charge)
Steering wheels: 8 inch
Weight: 36 kg
Load capacity: 200 kg; 160 kg (for car transport).


Options / Accessories:
- Frame: Frame extension
- Push handles: height adjustable, rotatable, push bar (angle adjustable, height adjustable).
- Headrest: various versions, cover, cushion, with swivel function, with side guide
- Back: fixed back unit (aluminum), back height extension, lateral support, padded, back wedge, lumbar cushion
- Seat: Easy Care cover, incontinence cover
- Seat dimensions: reduction cushion (seat width)
- Arm rests: various designs, for hemiplegics, rotatable, fixable
- Leg support: amputation leg support, fixed leg support, with calf plate (angle adjustable), angle limiter, padded, extra abduction, calf strap
- Footrest: one-piece, foot fixation, reinforced, flip-up, lockable, padded, ankle strap
- Wheels: reduced drive wheels
- Brake: drum brake, brake lever extension
- Other: quick-release axle, attachment kit for car transport, abduction wedge small / medium / large, therapy table, infusion bottle holder, safety belts, Decon drive system (electric)
Reference Number:
IW/122203.344
Source :
IW
Last Update: 2 Nov 2021