Assistive Product

Sopur Easy Life RT
Product Type:
Manually controlled wheelchair, rigid
Adaptive wheelchair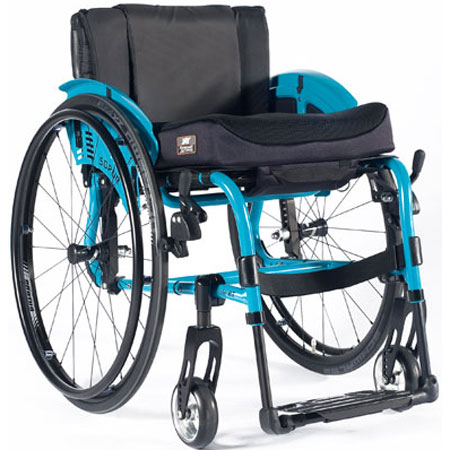 Description:
The Sopur Easy Life RT is a lightweight manually controlled wheelchair with various adjustment options for young people. It is the rigid counterpart to the foldable
Sopur Easy Life T
. It is suitable for passenger transport in vehicles (crash tested).
Features / Components:
- Frame: Aluminum, rigid, frame angle 95 / 105 degrees (FF only), selectable frame FF (integrated footrests) / SA (swing-away and removable footrests)
- Push handles: long
- Back: selectable back height, height adjustable, adjustable back upholstery, padded
- Seat: adjustable seat upholstery
- seat dimensions: selectable seat width, selectable seat depth, selectable seat height, angle adjustable
- footrests: integrated in frame (FF) / swing away and swing away (SA)
- drive: handrim drive
- handrims: Aluminum / stainless steel, narrow / wide mounting
- Wheels: selectable wheel sizes, selectable wheel camber, drive wheels: universal wheel / design wheel / lightweight wheel
- Tires: drive wheels: puncture-proof tires / pneumatic tires; steering wheels: solid rubber tires / pneumatic tires
- Brake: knee lever brake / standard brake
- Other: selectable center of gravity adjustment
- Color: frame: various co
Price (without guarantee):
Basic model Sopur Easy Life RT: 2.519,00 EUR plus VAT. (recommended retail price)
SHI-Number:
SHI-Medical Technical Aids Register | 18.50.03.6007
Product Information from the Manufacturer / Distributor:
Weitere Details des Herstellers
Weitere Details des Herstellers als PDF
Further Information
Technical Data:

Overall width: SB +20 cm (with wheel camber 0 degrees)
Overall height: 95 cm
Overall length: 107.5 cm
Seat width: 28 - 48 cm (in 2 cm increments)
Seat depth: 32 / 24 cm (FF only); 36 - 46 cm (in 2 cm increments)
Seat height (front): 36 - 50 cm (in 1 cm increments)
Seat height (rear): 36 - 45 cm (in 1 cm increments)
Seat angle: 0 - 12 degrees
Back height: 25 - 30 / 30 - 35 / 35 - 40 / 40 - 45 cm
Back angle: -12 - +8 degrees
Drive wheels: 22 / 24 inches
Steering wheels: 4 / 5 / 6 / 7 inches
Camber: 0 / 1 / 2 / 3 / 4 / 5 / 6 degrees
Weight: from 10 kg
Load capacity: 125 kg


Options / Accessories:
- Frame: Cranking (2 cm), abduction frame
- Push handles: foldable, height adjustable, push bar (width adjustable, angle adjustable)
- Headrest: medium / large, height adjustable, depth adjustable, angle adjustable
- Back: angle adjustable, foldable, breathable back cover, various back cushions
- Seat: various seat cushions
- Side panels: Plastic / aluminum / carbon, removable
- armrests: central support, padded, height adjustable, removable, depth adjustable
- leg support: calf strap
- footrest: one-piece / split, plastic / aluminum / carbon, swivel up, angle adjustable, depth adjustable
- Drive: one-hand drive
- Push rims: special push rims, attachment super narrow
- Wheels: various drive wheels, wheelbase extension, transit wheels, safety wheel
- Tires: Drive wheels: various Versions; Steering wheels: various Versions
- Brake: drum brake, brake lever extension, compact brake, pressure brake (integrated in side panel)
- Other: lap belt, work table, therapy tables, tipping aid, preparation for ATTITUDE Anklemmbike, WheelDrive
- Color: Push rims: various colors; special colors
Reference Number:
IW/122203.601
Source :
IW
Last Update: 1 Mar 2022