Assistive Product

Speedy A2
Product Type:
Push rim wheelchair,
Adaptive wheelchair with rigid frame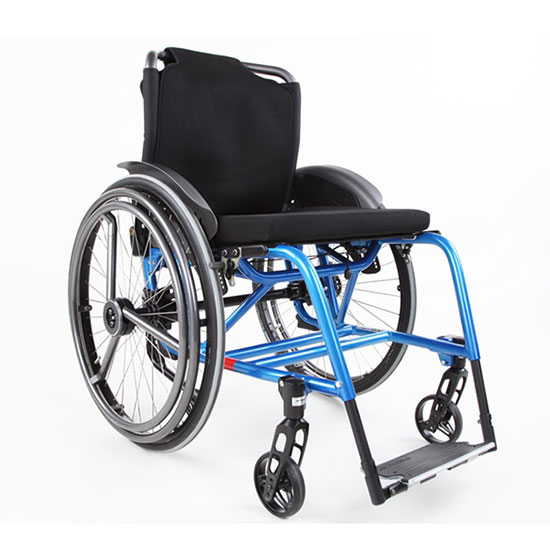 Description:
Speedy A2 is specially designed for the use of stair climbers. It is a rigid frame wheelchair with various adjustment options. It is available in a version up to 120 kg and up to 150 kg (heavy duty) load capacity.
Features / Components:
- Frame: rigid, G-shaped stem, frame angle 105 degrees, frame long / short.
- Back: foldable, angle adjustable, adjustment back, back padding
- Seat: seat upholstery
- Seat dimensions: selectable seat width, selectable seat depth, selectable seat height
- side parts: Aluminum
- Footrests: one-piece, with tubular support bracket, height adjustabler
- Drive: handrim drive
- Handrims: Aluminum / stainless steel
- Wheels: selectable wheel sizes, selectable wheel camber, 2-slot wheel plate
- Tires: drive wheels: high pressure low rolling resistance tires / tread tires ; steering wheels: solid rubber tires / PU tires
- Brake: knee lever brake, brake lever standard / long / low / 20 degrees flared
- Color: frame: various colors; attachments: black; cover: b
Price (without guarantee):
Basic model Speedy A2: 3.250,00 EUR plus VAT (recommended retail price)
SHI-Number:
SHI-Medical Technical Aids Register | 18.50.03.5024
Product Information from the Manufacturer / Distributor:
Further Product Details
Further Information
Technical Data:

Frame length: Short frame Long frame
Seat width: 38 - 50 cm (in 1 cm increments) 38 - 50 cm (in 1 cm increments)
Seat depth: 36 - 43 cm (in 1 cm increments) 40 - 48 cm (in 1 cm increments)
Seat height, front: 44 - 51 cm (in 1 cm increments) 46 - 54 cm (in 1 cm increments)
Seat height rear: 37 - 43 cm (in 1 cm increments) 39 - 45 cm (in 1 cm increments)
Back height: 20 - 48 cm (in 1 cm increments) 20 - 48 cm (in 1 cm increments)
Lower leg length: 33 - 50 cm (in 1 cm steps) 35 - 52 cm (in 1 cm steps)
Drive wheels: 24 / 25 / 26 inch (partly extra charge) 24 / 25 / 26 inch (partly extra charge)
Steering wheels: 3 / 4 / 5 / 6 inch (partly extra charge) 3 / 4 / 5 / 6 inch (partly extra charge)
Wheel camber: 1 / 4 / 6 degrees 1 / 4 / 6 degrees
Weight: from 10,3 kg from 10,3 kg
Load capacity: 120 kg; 250 kg (Heavy Duty) 120 kg; 250 kg (Heavy Duty)


Options / Accessories:
- Frame: Stem in V-shape, frame angle 95 degrees.
- Push handles: Aluminum, fixed, height adjustable, unscrewable, back shiftable
- Back: back tube with lordosis curvature, back elevation (+3 to +5 cm), various back systems
- Seat: open belt system, seat cushion standard / anti-decubitus
- Side section: Desk side section, removable, height adjustable
- Armrests: height adjustable, upholstered, removable, swing away
- Footrest: one-piece / split, folds up on one side, swivels outwards, height adjustable, folds up on the back, footrest, angle adjustable, removable
- handrims: titanium, various special handrims, handrim cover
- Wheels: 3-slot wheel plate, various caster forks, caster track extension
- Tires: drive wheels: various designs; steering wheels: various designs
- Brake: knee lever brake (brake lever can be folded down), drum brake
- Electrical components: Preparation for mounting e-motion / e-fix
- Lighting: front light, rear light
- Miscellaneous: anti-tipper (swiveling), quick-release axle, lap belt
- Color: Frame: Special colors, two-color designs / single-color designs; add-on parts: special colors
Reference Number:
IW/122203.196
Source :
IW
Last Update: 8 Feb 2023