Assistive Product

Aero T
Product Type:
Handrim wheelchair,
Adaptive wheelchair with rigid frame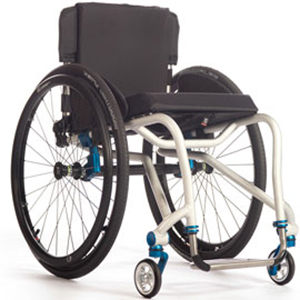 Description:
Aero T wheelchair is a rigid adaptive wheelchair. It has various adjustment options.
Features / Components:
- Frame: Aluminum, rigid
- Push handles
- Back: back height adjustable, back angle rigid, foldable, upholstered
- Seat: adjustable seat cover
- Seat dimensions: selectable seat width, selectable seat depth, selectable seat height, made to measure, selectable seat angle
- Footrests: one-piece, angle adjustable
- Drive: push rim drive
- Push rims: Aluminum, mounted wide
- Wheels: selectable wheel sizes, selectable wheel camber
- Tires: drive wheels: pneumatic tires; steering wheels: solid rubber tires
- Brakes: compact brake: push / pull
- Other: thru axle, selectable center of gravity adjustment
- Color: frame: various co
Price (without guarantee):
The price is available on request from the manufacturer / distributor.
Product Information from the Manufacturer / Distributor:
Further Product Details (Englisch)
Further Information
Technical Data:

Seat width: 30.5 - 48 cm; 51 cm (surcharge)
Seat depth: 30.5 - 48 cm; 51 cm (surcharge)
Seat height (front):

38 - 53 cm
Seat height (rear): 33 - 48 cm; 53 cm
Seat angle: 80 to 101 degrees
Frame angle: 70 / 75 / 80 / 85 / 90 degrees
Drive wheels: 20 / 22 / 24 / 25 / 26 inches
Steering wheels: 3 / 4 / 5 / 6 inches
Wheel camber: 0 / 2 / 4 / 6 degrees
Weight: from 5.4 kg
Load capacity: 120 kg

Options / Accessories:
- Frame: Titanium, various frame options (HD, reinforced)
- Push handles: titanium, height adjustable, foldable
- Back: various back systems
- Seat: seat plate, various seat cushions, ergonomic
- Seat dimensions: seat taper
- Side panel: foldable, aluminum / carbon, removable
- Armrests: pivoting, removable, height adjustable
- Leg rests: Calf strap, stump rest
- Footrests: titanium, foldable, high mounted
- Handrims: titanium, special handrims, handrim cover, mounting tight
- Wheels: various wheel designs
- Tires: drive wheels: various Spinergy variants; steering wheels: soft tires
- Brakes: Uni-Lock brake, brake lever extension
- Electrical components: Smart Drive MX2+ system
- Other: safety belt, anti-tilt
- Color: frame: Special colors
Reference Number:
IW/122203.526
Source :
IW
Last Update: 15 Mar 2022