Assistive Product

Likorall 242 ES Deckenlifter
Product Type:
Ceiling lifter
External power-driven lifter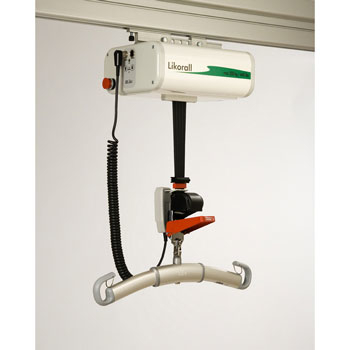 Areas of Application:
- Lifting aid while sitting

The system is suitable for users who want to move the lifting motor along the rail electronically with a transfer motor or who want to control the electrical switches of the rail using a wireless hand control.
The safety functions include a patented safety drum with speed limiter as well as electrical and manual emergency lowering. The engine lift interval will handle lifting from the ground in most environments. The motor can also be equipped with a special trolley for easy transfers from room to room.
Features / Components:
- Transfer (bed, wheelchair, bathtub, toilet, floor)
- flexible rail system
- sling bar
- sling
- Lift strap with 10-fold safety factor
- adjustable strap stopper
- manual emergency lowering
- emergency stop
- emergency stop cord
- battery operation
- optional infrared remote control
- optional trolley for m
Price (without guarantee):
The price is available on request from the manufacturer / distributor.
Product Information from the Manufacturer / Distributor:
Further Product Details
Further Information
Technical Data:
Max. Lifting load: 200 kg
Weight: 13 kg
Lifting height: 200 cm
Lifting speed: 50 mm / s
Reference Number:
DIAS/005965
Source :
IDTS
Last Update: Mon Apr 12 00:00:00 UTC 2021