Assistive Product

Stockhalter Stockwicht
Product Type:
walking stick holder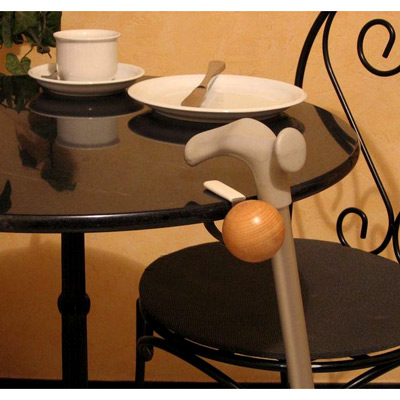 Description:
The stick holder is suitable for clamping on the table top or for leaning against.
Features / Components:
Material: Stainless steel stick holder and a beech solid wood ball, 5 cm in diam
Price (without guarantee):
Price available on request from the manufacturer / distributor.
Further Information
REHADAT does not sell any products
Please contact the manufacturer or distributor.
Manufacturer:
no data available

Distributor:
Röhren Wohn-Ideen Tischlerfachbetrieb
Manfred Röhren
Paulusweg 4
33154 Salzkotten
Germany Telephone: 05258 2109966 Email: info@roehren-wohnideen.de Homepage: https://www.roehren-wohnideen.de
Versions:
two different Staple strengths:
Table top thickness up to 4.5 cm or up to 2 cm
Reference Number:
M/25958
Source :
IW
Last Update: 29 Jul 2019