Assistive Product

Eis-Dorn, klappbar
Product Type:
Ice tip for mounting on walking aids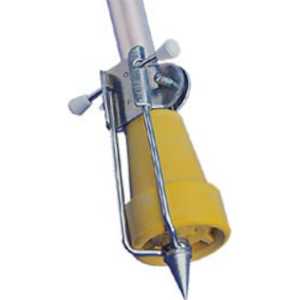 Description:
The ice stop fits on all pipe or pole diameter. With an adjustable clamp, the simple device is screwed to the floor. For walking sticks, there is a version with a thorn, for crutches with 5 thorns. These are attached to a springy metal bracket, which locks in two positions: when used under the crutch capsule, when not in use above the clamp close to the floor.
Price (without guarantee):
The price is available on request from the manufacturer / distributor.
SHI-Number:
SHI-Medical Technical Aids Register | 10.99.01.1006
Further Information
REHADAT does not sell any products
Please contact the manufacturer or distributor.
Manufacturer:
no data available

Distributor:
Erwin Kowsky GmbH & Co. KG
Oderstr. 73
24539 Neumünster
Germany Telephone: 04321 9957-0 Email: Info@kowsky.de Homepage: https://shop.kowsky.de/
Reference Number:
M/6766
Source :
IW
Last Update: 26 Jul 2019