Assistive Product

UNTERARMGEHHILFE BIG XL
Product Type:
Adjustable Forearm Crutch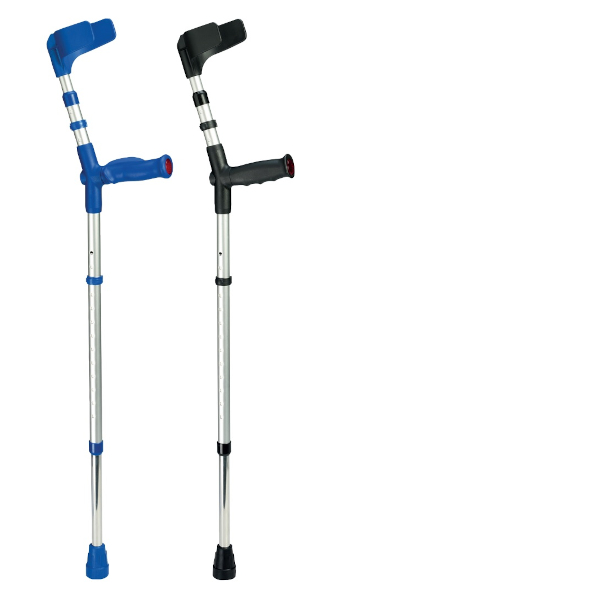 Description:
The forearm crutch is adjustable in both the upper part and the lower part. So it can be adapted to the body dimensions.
Features / Components:
- plastic arm support made of glass fiber reinforced material
- interchangeable handle receptacle: anatomical hard grip and anatomical soft grip
- reflectors on the front and back of the walking aids
- larger tube diameters provide greater stability
- plastic parts can be selected in one color
- light metal tubes in silver anodized
- non-slip rubber capsule made of natural rubber with steel insert
- 13-way adjustable by
Price (without guarantee):
The price is available on request from the manufacturer / distributor.
Product Information from the Manufacturer / Distributor:
Further Product Details
Further Information
REHADAT does not sell any products
Please contact the manufacturer or distributor.
Manufacturer:
Erwin Kowsky GmbH & Co. KG
Oderstr. 73
24539 Neumünster
Germany Telephone: 04321 9957-0 Email: Info@kowsky.de Homepage: https://shop.kowsky.de/
Distributor:
Erwin Kowsky GmbH & Co. KG
Oderstr. 73
24539 Neumünster
Germany Telephone: 04321 9957-0 Email: Info@kowsky.de Homepage: https://shop.kowsky.de/
Technical Data:

Load capacity up to: 150 kg
adjustable from: 73 cm - 103 cm
Weight per pair: 1300 g
Temple width: 8 cm
Reference Number:
Hil135975
Source :
IDTS
Last Update: 27 Mar 2023