Assistive Product

ARTHRITIS‐GEHSTÜTZE FLEX
Product Type:
Arthritis crutch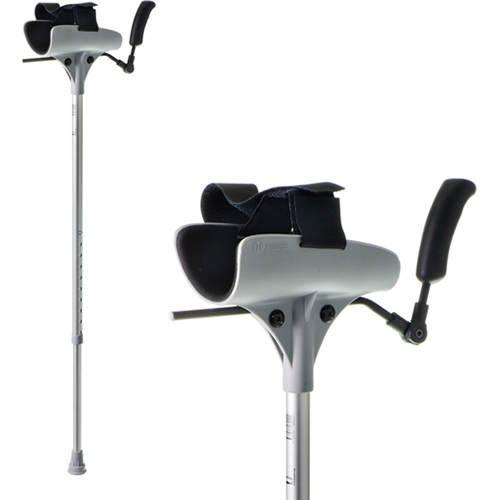 Areas of Application:
- Adults
- Rheumatics
Description:
This crutch has a padded forearm support with strap and an individually adjustable handle that can be repositioned for use on the left or right arm. The crutch is equipped with a non-slip capsule at the foot end.
Features / Components:
Material: light metal
Adjustability: spring button
Handle: plastic
Forearm sup
Price (without guarantee):
156.00 EUR plus VAT.
Recommended retail price
Product Information from the Manufacturer / Distributor:
Further Product Details
Further Information
REHADAT does not sell any products
Please contact the manufacturer or distributor.
Manufacturer:
no data available

Distributor:
MEYRA GmbH
Meyra-Ring 2
32689 Kalletal-Kalldorf
Germany Telephone: 05733 922-311 (Rollstühle),
05733 922-355 (Rehabilitationshilfen),
05733 922-333 (Ersatzteile) Email: info@meyra.de Homepage: https://www.meyra.de
Technical Data:
Handle height: 95 to 118 cm
Weight: 700 g
Load capacity: 140 kg
Reference Number:
M/5361
Source :
IDTS
Last Update: 26 Jan 2021