Assistive Product

Standardachselstütze Quick'n Easy Soft
Product Type:
Armpit support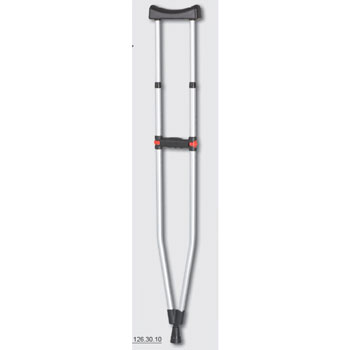 Description:
Armpit supports are designed for people with limited walking ability and hand/arm function limitations, and are used for gait safety. The use of these walking aids can be indoors and outdoors.
Features / Components:
Material: aluminum tubing
Length adjustability: clip adjustment
Handle: height adjustable
Armpit pad: PUR foam
Height adjustability: adjustment
Price (without guarantee):
53,70 EUR incl. VAT (distribution)
End user price
SHI-Number:
SHI-Medical Technical Aids Register | 10.50.03.0003
Product Information from the Manufacturer / Distributor:
Further Product Details
Further Information
REHADAT does not sell any products
Please contact the manufacturer or distributor.
Manufacturer:
Rebotec Rehabilitationsmittel GmbH
Artlandstr. 57 - 59
49610 Quakenbrück
Germany Telephone: 05431 9416-0 Email: info@rebotec.de Homepage: https://www.rebotec.de
Distributor:
Adam J. Zysk
Hygieneprodukte
Bahnhofstr. 178
45701 Herten
Germany Telephone: 0209 5177542 Email: adam.zysk@gmx.de Homepage: http://www.medi-shop24h.de
Technical Data:

Armpit height: 118.0 - 138.0 cm
Handle height: 68.0 - 90.5 cm
Diameter: 22 mm
max. Body weight: 130 kg


Options / Accessories:
- Handle pad standard
- Armpit pad
- Reflector clip
- Anti-slip bumper Big-Foot
Reference Number:
M/25935
Source :
IDTS
Last Update: 14 Aug 2023