Assistive Product

Pedalerhöhung
Product Type:
Pedal Raise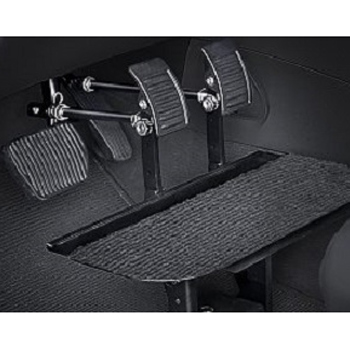 Description:
Mini Pedals:
The original pedals can be raised in this way by 3-9 cm. The pedals are easily movable and can be folded away upwards (depending on the footwell of the respective vehicle) when they are not needed.
The elevation is available for accelerator, brake and clutch pedals. The conversion is only possible with hanging pedals.

Maxi pedals:
If the mini pedals are not satisfactory, maxi pedals can be used. In this version, a footrest is integrated in addition
to the pedals. The maxi pedals
can be used to raise the pedals up to 30 cm.
The system is available for both automatic and manual transmissions.
Price (without guarantee):
The price is available on request from the manufacturer / distributor
Product Information from the Manufacturer / Distributor:
Further Product Details
Further Information
REHADAT does not sell any products
Please contact the manufacturer or distributor.
Manufacturer:
no data available

Distributor:
MobiTEC GmbH & Co. KG
Robert-Bosch-Str. 6
88450 Berkheim
Germany Telephone: 08395 910089-0 Email: info@mobi-tec.de Homepage: https://www.mobi-tec.de
Kraftfahrzeug-Umrüstbetriebe
Bundesweite Suche nach Spezialbetrieben
Homepage: http://rehadat.link/kfzumruester
Reference Number:
M/19459
Source :
IW
Last Update: 6 Jul 2022