Content
Assistive Product

Trotti Camper – E-Scooter, Elektroroller mit Sitz
Product Type:
Electric scooter with full suspension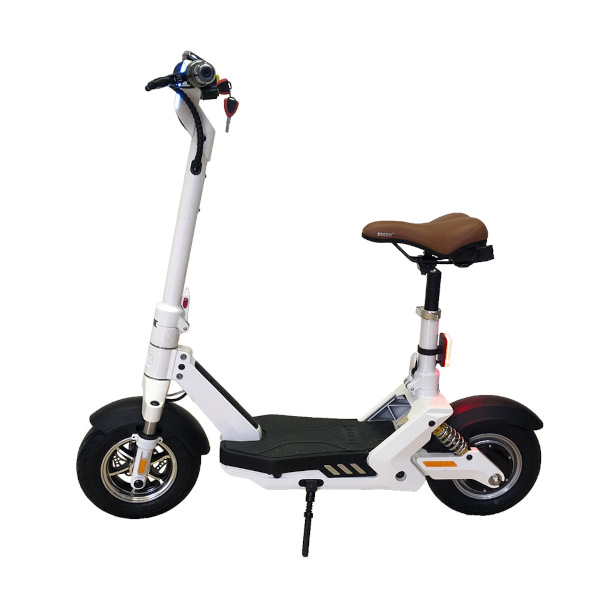 Areas of Application:
- for outdoor use
Description:
The scooter is suitable for people who do not feel safe enough on high bikes with large wheel diameter and still want to stay mobile without effort. The height-adjustable saddle, the low design and the low center of gravity on this e scooter contribute significantly to the assurance.
Shock absorbers on the front and rear wheels absorb shocks and bumps. The wheels are equipped with wide tires.
The handlebars as well as the seat post can be folded down with a handle to transport the vehicle.
Features / Components:
- street legal, no driver's license required in category up to 25 cm wheel diameter
- lightweight frame
- full suspension with shock absorbers on front and rear wheel
- wide tires
- foldable
- wheel hub motor
- lithium-ion battery
- height adjustable saddle
- low center of gravity
- fittings and motor with plug-in connection
- cell phone holder and basket behind seat
- battery not remov
Price (without guarantee):
1.949,00 CHF incl. VAT. (distribution)
End user price
Product Information from the Manufacturer / Distributor:
Further Product Details
Further Information
REHADAT does not sell any products
Please contact the manufacturer or distributor.
Manufacturer:
Trotti GmbH
Untermüli 11
6300 Zug
Switzerland Telephone: +41 41 7400215 Email: info@trotti.ch Homepage: https://trotti.ch
Distributor:
Trotti GmbH
Untermüli 11
6300 Zug
Switzerland Telephone: +41 41 7400215 Email: info@trotti.ch Homepage: https://trotti.ch
Technical Data:

Speed: 20 km/h
Range: 45 - 50 km
Battery: 12 Ah4 - 6 hours
Wheels: 250 mm
Dimensions: L-106 cm / W-59 cm / H-102 cm
Mass / folded: L-106 cm W-24 cm H-53 cm
Weight: 23.5 kg
Gradeability: 18 degrees
Reference Number:
Hil135395
Source :
IDTS
Last Update: 17 Mar 2022