Assistive Product

TDX SP2 Ultra Low Maxx
Product Type:
Power wheelchair with center wheel drive
Use: Indoor and outdoor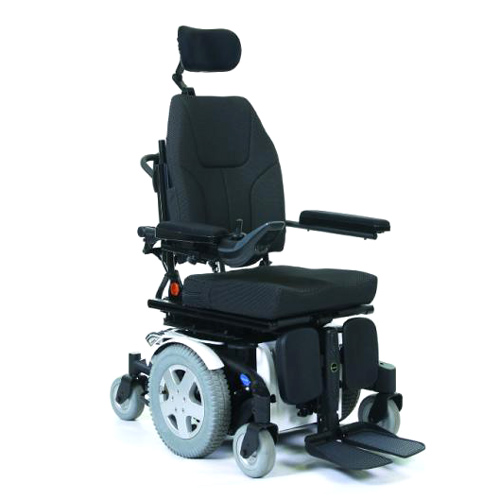 Description:
TDX SP2 Ultra Low Maxx power wheelchair has various adjustment options. It has a seat lift and electric seat angle adjustment. The wheelchair is suitable for passenger transport in vehicles (crash tested).
Features / Components:
- Frame: Steel
- Headrest
- Back: electric angle adjustable, upholstered, selectable back height
- Seat: seat lift, seat cushion, upholstered
- Seat dimensions: electrically angle-adjustable, width-adjustable, selectable seat width, selectable seat height, depth-adjustable, selectable seat depth
- Armrests: height-adjustable, angle-adjustable, swing-away, upholstered
- Control: joystick control
- Leg rests
- Footrests: split / one-piece, angle-adjustable, width-adjustable
- tires: steering wheels: puncture-proof tires; drive wheels: pneumatic tires
- brake: motor brake
- drive: center wheel drive
- batteries
- charger
- lighting: active lighting system
- Other: 4-point safety device
- Colors: frame: various colors; cover: b
Price (without guarantee):
TDX SP2 Ultra Low Maxx (with seat lift): 20.eUR 467.00

Prices are recommended retail prices plus VAT.
SHI-Number:
SHI-Medical Technical Aids Register | 18.99.06.1094
Product Information from the Manufacturer / Distributor:
Weitere Details zum TDX SP2 Ultra Low Maxx
Further Information
Technical Data:

Overall width: 65 cm
Overall length (with footrests): 112 cm
Overall height: 108 - 153.5 cm
Seat width: 40.5 - 50.5 / 48 - 55.5 / 50.5 - 61 cm
Seat depth: 40.5 - 50.5 / 48 - 58 cm
Seat height: 44 / 46 / 49 cm
Seat lift: 30 cm
Seat angle: 0 to 45 degrees; -10 to +45 / -5 to +55 / 5 to 60 degrees (extra charge)
Back height: 35.5 - 50.5 cm
Back angle: 90 to 170 degrees; 60 to 140 / 82 to 162 degrees (extra charge)
Armrest height: 23 - 40.5 cm
Drive wheels: 14 inches
Steering wheels: 15 cm
Top speed: 6 km/h; 10 / 12 km/h (extra charge)
Batteries: 73.5 Ah
Range: 31 km
Turning circle: 1.12 m
Obstacle height: 7.5 cm
Gradeability: 16 percent
Weight: 179 kg
Load capacity: 136 kg


Options / Accessories:
- Headrest: various versions
- Back: various back systems
- Seat: various seat cushions
- Armrests: ergonomic
- Controls: various attachments, companion control, chin control, head control, suction / blow control, special control
- Leg rests: Knee pads, central, angle adjustable, electrically adjustable, height adjustable
- footrests: depth adjustable
- tires: drive wheels: puncture-proof tires
- Other: pads, safety belts, therapy table
Reference Number:
IW/122306.261
Source :
IW
Last Update: 23 Nov 2022