Assistive Product

EmmA one Touch- App
Product Type:
App with emergency call function and location function for smartphones and tablets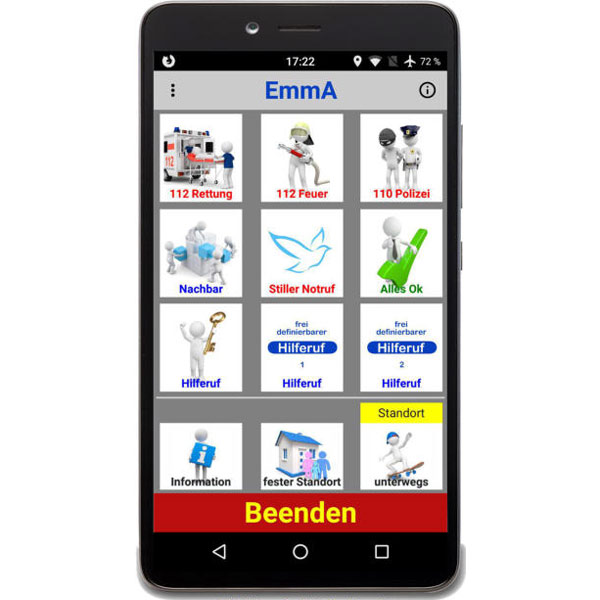 Areas of Application:
- Hearing Impairment
- Speech Impairment
- Emergency
Description:
With the emergency call app "EmmA one Touch" it is possible to send an emergency call to four addressees plus the emergency call at the same time, for example to neighbors, family, friends. The app contains identification data (surname, first name, date of birth, location), as well as other personal, medical and other important information. All data is stored in encrypted form and can only be decrypted and passed on by EmmA. While in case of an emergency call the control center is immediately informed about all personal and medical data, all other addressees only receive information specified by the owner.
Features / Components:
- EmmA one Touch includes EmmA4Win, a Windows program that captures the personal data.
- can reach up to 5 addressees
- 9 different emergency call types (emergency, silent emergency, fire)
- app can also contact the addressees via Whatsapp or similar
- multiple languages poss
Price (without guarantee):
The price is available on request from the manufacturer / distributor.
Product Information from the Manufacturer / Distributor:
Further Product Details
Further Information
Options / Accessories:
- There is a possibility to buy a wristband, which activates the app and sends the emergency call at the push of a button.
Reference Number:
Hil132682
Source :
DIAS
Last Update: 16 Mar 2022