Content
Assistive Product

Wandkalender Tagesabreißkalender
Product Type:
Calendar
Wall calendar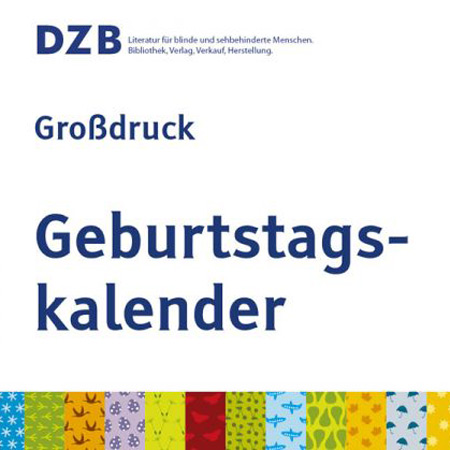 Areas of Application:
- severely visually impaired people
Description:
- tear-off calendar for the wall
- 1 sheet per day
- digit height approx. 8.5 cm
- only available from September to the end of the year - while stocks last.
Price (without guarantee):
The price is available on request from the manufacturer / distributor.
Product Information from the Manufacturer / Distributor:
Further Product Details
Further Information
REHADAT does not sell any products
Please contact the manufacturer or distributor.
Manufacturer:
no data available

Distributor:
Landeshilfsmittelzentrum des Blinden- und Sehbehindertenverband Sachsen e. V.
Louis-Braille-Str. 6
01099 Dresden
Germany Telephone: 0351 8090624 Email: lhz@bsv-sachsen.de Homepage: https://www.lhz-dresden.de
Technical Data:
Height (cm): 25
Width (cm): 14.5
Keywords
ISO
Search for similar prodcuts in REHADAT:
Search for similar products in EASTIN throughout Europe:
ICF Items
Reference Number:
DIAS/006306
Source :
DIAS
Last Update: 11 May 2021