Content
Assistive Product

noves mono
Product Type:
High Magnification Reading Glasses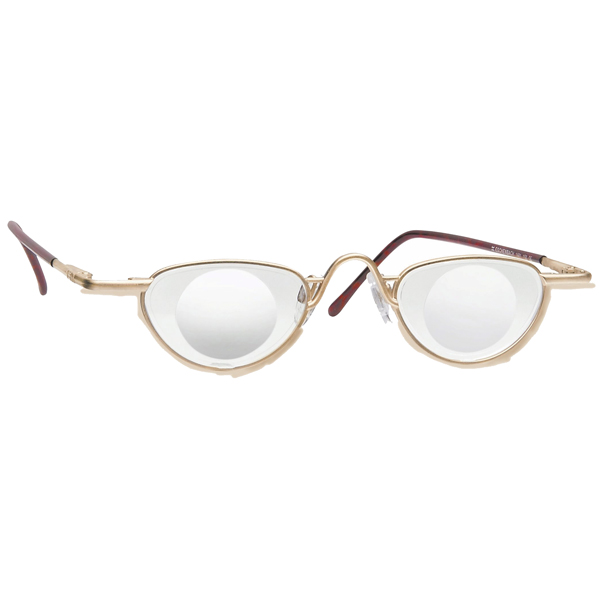 Areas of Application:
- Visual Impairment
- Retinitis Pigmentosa
- Acquired Aphakia
- Glaucoma
Description:
The system is suitable for monocular near correction in eye diseases such as macular degeneration, diabetic retinopathy or glaucoma.
The lenses are designed to be cosmetically unobtrusive with a lens thickness of only 4.5 mm. Due to the design, the glasses are very lightweight. The half-glasses shape allows orientation in space across the lenses.
Features / Components:
- Lens: aspherical lens with diffractive structures made of PXM material
- Lens hard coated on both sides cera-tec
- for monocular use the counter lens is frosted
- Frame with spring hinges
- shortenable temples
- Softpads
- Frame dimensions: 41-22
- Frame color: gold matt or gun g
Price (without guarantee):
The price is available on request from the manufacturer / distributor.
Product Information from the Manufacturer / Distributor:
Further Product Details
Further Information
Technical Data:

Glass thickness: 4.5 mm
Weight: 20 g


Versions:

Magnification: working distance approx.:
3x, 12 dpt 83 mm
4x, 16 dpt 65 mm
5x, 20 dpt 50 mm
6x, 24 dpt 42 mm
Reference Number:
M/25593
Source :
DIAS
Last Update: Tue Jul 12 00:00:00 UTC 2022