Assistive Product

Teleskop-Spiegel für Diabetiker
Product Type:
Telescope mirror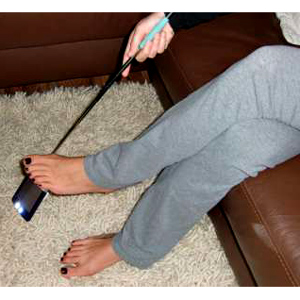 Areas of Application:
- Visual impairment
- Restriction of movement
- Diabetes mellitus
Description:
The soles of the feet can be viewed with the telescope mirror, e.g. B. for foot care for diabetics. One side of the mirror reflects in its original size, the other is enlarged many times over.
Features / Components:
- Extendable up to 60 cm
- Collapsible
- Mirror diameter 7.5 cm
Price (without guarantee):
12, 87 EUR
(retail price including VAT)
Price date: 15.03.2021
Product Information from the Manufacturer / Distributor:
Further Product Details
Further Information
REHADAT does not sell any products
Please contact the manufacturer or distributor.
Manufacturer:
no data available

Distributor:
Alltagshilfen Schmid Renate
Alltagshilfen - Verbrauchsartikel - Homecareprodukte
Thannstr.10
5322 Hof
Austria Telephone: +43 650 6668881 Email: office@sanimed.at Homepage: https://www.alltagshilfen24.com
Reference Number:
M/24485
Source :
DIAS
Last Update: 15 Mar 2021