Assistive Product

Rundumsicht-Spiegel
Product Type:
All-round view mirror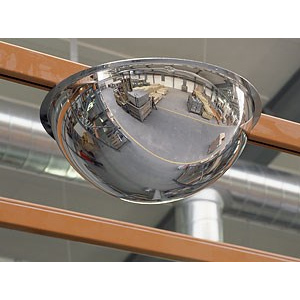 Description:
The all-round view mirror offers a view of all confusing intersections from every side. It is also suitable for monitoring salesrooms and showrooms.
Features / Components:
- Impact-resistant polycarbonate
- Attachment to walls and ceil
Price (without guarantee):
The price is available on request from the manufacturer / distributor.
Product Information from the Manufacturer / Distributor:
Further Product Details
Further Information
Technical Data:
Diameter 450 mm observation distance maximum 5 m to the mirror
Diameter 600 mm observation distance maximum 8 m to the mirror
Diameter 800 mm observation distance maximum 16 m to the mirror
Diameter 1000 mm observation distance maximum 30 m to the mirror
Reference Number:
IDTS/220315.002
Source :
DIAS
Last Update: 15 Mar 2021