Content
Assistive Product

Kantenfilterbrille Alex
Product Type:
Edge filter glasses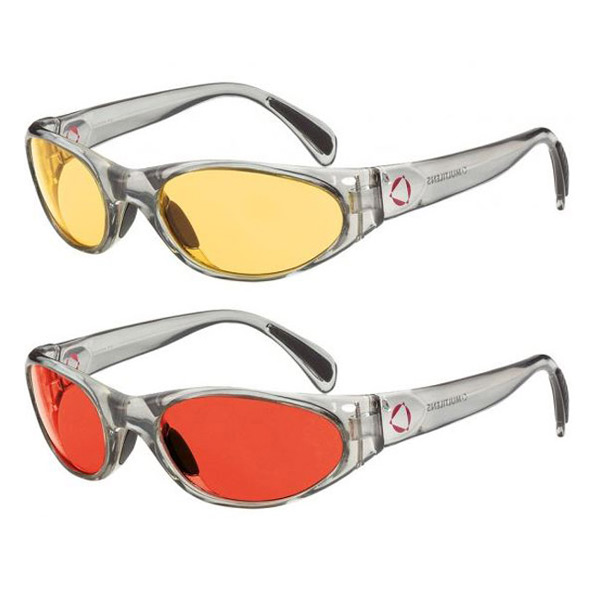 Areas of Application:
- Outdoor use
- Contrast enhancement
- Cataracts
- Albinism
- Diabetic retinopathy
- Glare sensitivity
Description:
Edge filters allow light to pass through almost unfiltered up to a cut-off frequency, but absorb from the Cutoff frequency (edge) a large part of the light. This increases the contrast and reduces glare.
Thanks to the darkened upper edge, the glasses lie close to the head and effectively prevent stray light from reaching the eye from above.
In particular, the disturbing short-wave parts of the spectrum are filtered out, with a high degree of light transmission being achieved at the same time. As a result, the edge filter glasses are especially suitable for the visually impaired. The edge filter goggles are suitable for wearing over the corrective frame.
Features / Components:
- large field of view due to the arched frame shape
- protection from the incidence of light from the side by side protection parts and from above due to the pronounced upper edge
- good anatomical adaptation to the respective head shape
- low weight with plastic lenses
- edge / comfort filter (optionally with additional 60% POL1 or 80% POL3 effect) for a wide variety of eye diseases for the best light protection, contrast enhancement and prevention of damage to the retina
- including SunCoat (hard layer and back surfaces -ET)
Price (without guarantee):
The price is available on request from the manufacturer / distributor.
Product Information from the Manufacturer / Distributor:
Further Product Details
Further Information
Technical Data:
Curve: 7
Frame color: Transparent gray
Coating: B-AR
Glass material: Polycarbonate
Frame size: 54-21
Frame material: plastic
Keywords
ISO
Search for similar prodcuts in REHADAT:
Search for similar products in EASTIN throughout Europe:
ICF Items
Reference Number:
Hil132841
Source :
DIAS
Last Update: 21 Apr 2021