Assistive Product

Fernrohr-Brille G 2 bioptics
Product Type:
Telescope Glasses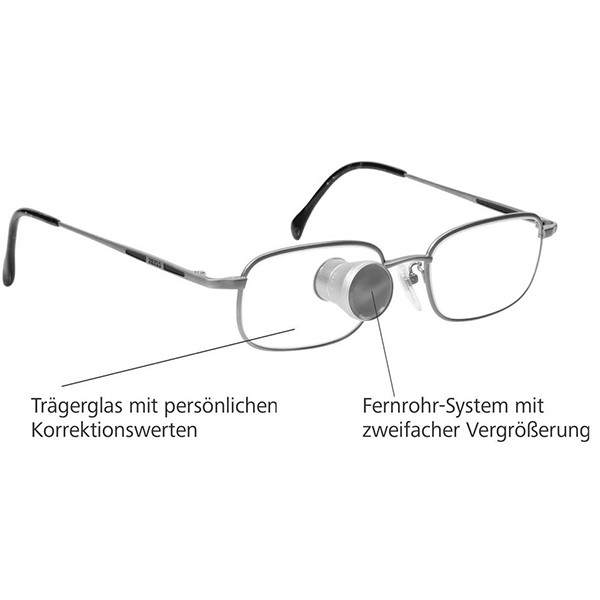 Description:
Telescope glasses have magnifying optical systems built into them. These are basically mini telescopes for better distance vision. Additional magnifiers, which are complementary to these telescopes, allow you to see up close with a flick of the wrist.
Galilean telescopes are used in particular when satisfactory visual success cannot be achieved with conventional fittings (glasses, contact lens, magnifier). For use at close range, the telescope glasses are equipped with clip-on len
Price (without guarantee):
The price is available on request from the manufacturer / distributor.
Product Information from the Manufacturer / Distributor:
Further Product Details
Further Information
REHADAT does not sell any products
Please contact the manufacturer or distributor.
Manufacturer:
Carl Zeiss Vision GmbH
Turnstr. 27
73430 Aalen
Germany Telephone: 07361 598-5000 Email: info.vision.de@zeiss.com Homepage: https://www.zeiss.de
Distributor:
Fachhandel
Adressen bitte im Internet recherchieren.

Technical Data:

Magnification (distance): 2x
Working distance: infinity
Field of view: 10 degrees
Overall length: approx. 20 mm
Weight: approx. 7 g
Reference Number:
Hil133126
Source :
DIAS
Last Update: 3 Aug 2022