Assistive Product

Der praktische Schaumstoff-Schlauch
Product Type:
Handle Adapter, Foam Hose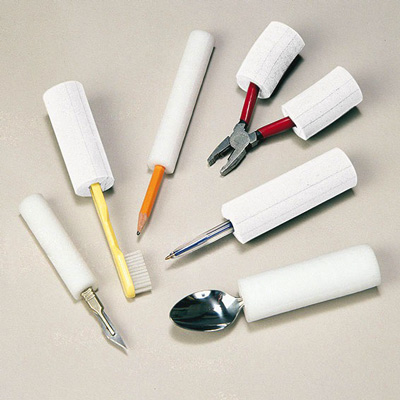 Areas of Application:
- DIY Handles
- Handicap
Description:
Foam hoses in various thicknesses and cavity diameters are used for handle thickening. They do not absorb water and are available in 1 m length. The required pieces can be cut to the desired len
Price (without guarantee):
including VAT (sales)
End user price
SHI-Number:
SHI-Medical Technical Aids Register | 02.40.02.0004
Product Information from the Manufacturer / Distributor:
Further Product Details
Further Information
REHADAT does not sell any products
Please contact the manufacturer or distributor.
Manufacturer:
no data available

Distributor:
Servoprax GmbH
Am Marienbusch 9
46485 Wesel
Germany Telephone: 0281 95283-0 Email: info@servoprax.de Homepage: https://www.servoprax.de
Versions:

Order number: Inner diameter: Outer diameter: Length: Price:
M1 M59 6 mm 31 mm 1 m 11,48 EUR
M1 M60 9 mm 31 mm 1 m 11,84 EUR
M1 M61 12 mm 31 mm 1 m 13,03 EUR
M1 M65 6 mm 19 mm 1 m 7,08 EUR
Reference Number:
M/6381
Source :
IDTS
Last Update: 3 Jun 2022