Assistive Product

Griffverdickung Universal
Product Type:
Universal Clip-on Handle Adaptor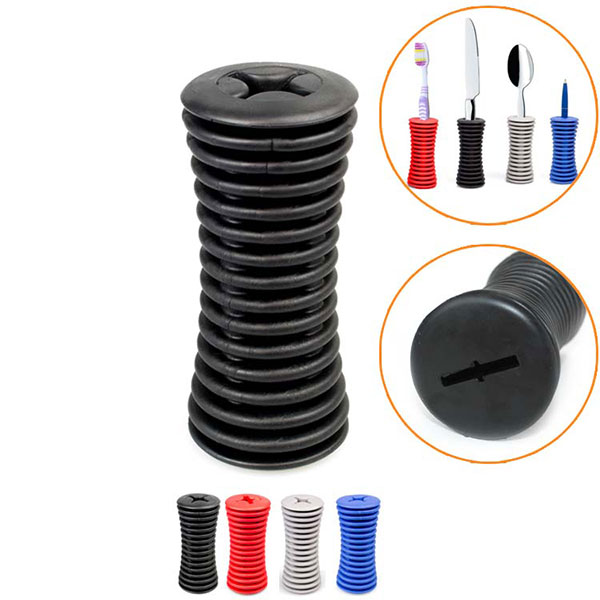 Areas of Application:
- Hand Disability
- Reduced Hand Strength
- Limited Hand Function
- For Writing Instruments
- Toothbrushes
- Brushes
- Cutlery
Description:
The handle thickener is attached to make it easier to grip cutlery, pens, brushes, razors or toothbrushes.
The handle thickener is made of flexible rubber-like plastic and provides a secure grip for the hand due to the groove structure. Due to the wide diameter of the handle thickening, it is sufficient to loosely close the hand when gripping and holding. This also reduces the pressure on the joints.
For objects of different thicknesses, the Grip Thickener Universal offers 3 different slots. At one end of the handle thickener is a slot, on the other side is a cross of two other sl
Price (without guarantee):
12.95 EUR including VAT.
End user price
Product Information from the Manufacturer / Distributor:
Further Product Details
Further Information
REHADAT does not sell any products
Please contact the manufacturer or distributor.
Manufacturer:
no data available

Distributor:
WGP-Produktdesign
Neuer Messplatz 3
79108 Freiburg
Germany Telephone: 0761 21606998 Email: shop@wgp-produktdesign.de Homepage: https://www.wgp-shop.de
Technical Data:

Cutlery handle width: up to 2 cm
Diameter pins up to: 1 cm
Length: 9.5 cm
Diameter at the end: 4.4 cm, in the middle 3.5 cm
Weight: 100 g
Reference Number:
Hil133716
Source :
IDTS
Last Update: 27 Jan 2022